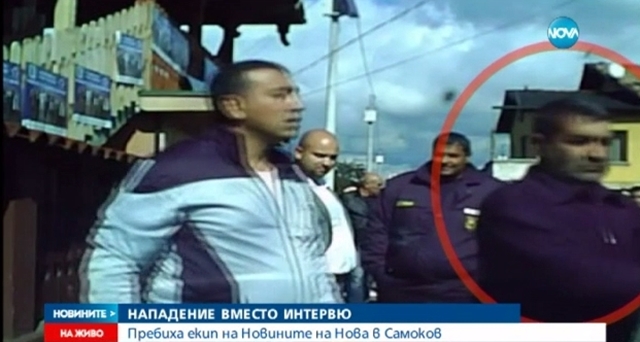 Sofia, October 7, 2015/ Independent Balkan News Agency
By Clive Leviev-Sawyer of The Sofia Globe
A number of people have been arrested after a crew from Bulgaria's Nova Televizia was assaulted while attempting to film a story about alleged energy theft in a Roma neighbourhood of the town of Samokov, with one of the assailants alleged to be a candidate councillor nominated by the Movement for Rights and Freedoms (MRF).
MRF leader Lyutvi Mestan has said that if it is proven that the candidate was among those involved in the assault, the candidate should immediately withdraw from the race in Bulgaria's October 25 municipal elections.
The assault took place on October 6, as reporter Nadia Gancheva, cameraman Mihail Krastev and driver Valentin Ivanov arrived to try to interview MRF candidate councillor Traicho Vassilev in connection with a story about alleged energy theft.
The crew was not seriously injured but their camera and car were damaged. In the incident, a group of people shouted at the crew, kicking and punching them.
Reports quoted senior police officer Marietta Ivanova of the regional police inspectorate in Sofia district as saying that five people had been taken into custody.
Mestan strongly condemned the attack, describing it as an unacceptable encroachment on freedom of expression, and he called for the full extent of the law to be applied against the perpetrators.
He noted that after registration, the MRF, like any political party, could withdraw candidates.
"As chairman of the MRF and on behalf of the whole party, I say that we do not want the votes of any Bulgarian citizen who would chop at a journalist," Mestan said.
Separately, later the same day there were reports that another team from Nova Televizia had been attacked, this time in the town of Yambol. Residents of the Roma area where the crew were filming started pushing the team, who called police. The journalists were not injured.
After the results of the October 5 2014 ahead-of-term national parliamentary elections were announced, the MRF – a party led and supported in the main by Bulgarians of Turkish ethnicity – boasted that it had made major inroads into the Roma community.