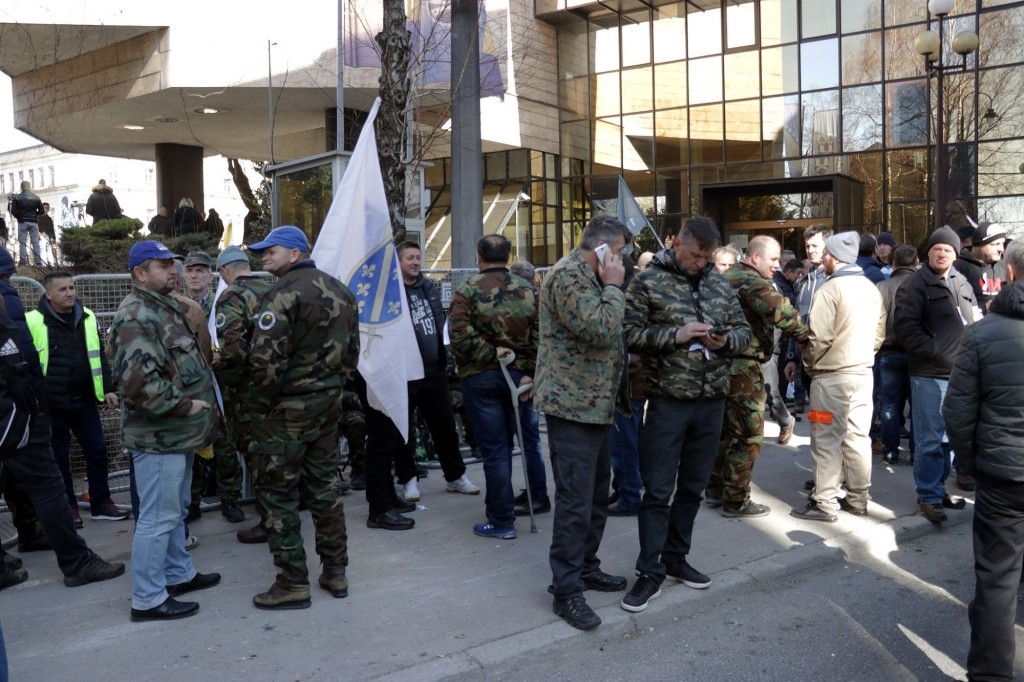 Several hundred war veterans, former members of the Army of Republic BiH (ARBiH) gathered in front of the Federation BiH Parliament building to witness if the MPs would adopt the changes of the Law on veterans rights, as they demanded earlier.
The veterans awaited the outcome of said agenda item, laying their hope on the future bill to solve three of their demands – the establishment of a monthly financial support for demobilized ARBiH soldiers who, from the end of the war, did not receive any similar privileges on the basis of participation in the war, the establishment of a uniform registry of combatants and the termination of the funding of combat associations, which currently exist in extremely large numbers in the Federation of BiH.
The MPs in the House of Representatives (Lower House) adopted a draft Law on rights of veterans and their families, meeting the demands of the veterans. A proponent of the law amendments was a caucus composed of the left-leaning Democratic Front and Civic Alliance, who sent the proposal into a brief parliamentary procedure. After the initial vote, 37 MPs supported this procedure while 42 abstained from vote and eight were against it. This means that before the final decision, the law will first be subjected to a two-month long public debate, and then again come on the agenda of the House of Representatives, and then the House of Peoples.
The vote outcome, which means several more months without the final solution, triggered fierce reactions among the veterans' representatives who were present in the session, but the law proposal was then returned to a regular procedure.
As hundreds of veterans were waiting in front of the building since morning, police forces have been securing the city centre surrounding the parliament building. The police are also securing the parliament building, preventing a possible veterans' forceful entrance into the building. A central street was briefly blocked, due to a long line of protesters while they were approaching the building.
The veterans' protest initially started last year with road blockades and gatherings in Sarajevo, but their actions were not crowned with success. In September, the protest turned into violent clashes with the police and several media groups were attacked. The organizers decided to break the protests during the period of General Elections and waited for the establishment of new House of Representatives in Federation BiH Parliament. The Law on veterans' rights was the first item on the agenda of the new House of Representatives in this entity./IBNA