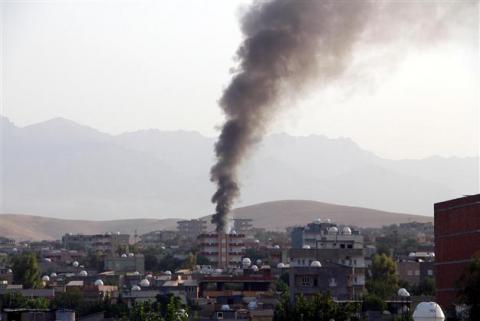 Ankara, November 10, 2015/Independent Balkan News Agency
Curfew issued in town
By Manolis Kostidis
Tension is high in parts of southeastern Turkey with clashes between Turkish security forces and Kurdish armed groups, which intensified immediately after the elections of November 1.
In the city Silvan district of Diyarbakır, for the 7th day the curfew continues to apply to citizens because of the armed conflict. Just on Monday two persons lost their lives in the street of the city, among them a policeman, and 6 were wounded. A total of five people have lost their lives in the street battles.
According to information, the special forces of the police are trying to break the barricades, which have been set up by men of the PKK, and are facing fierce resistance. Residents say that they witnessed rockets being fired in the streets near the site of the conflict. The mayors are trying to distribute bread to the residents, who for 7 days cannot leave their homes.
A similar situation of armed conflicts is the case in the district Cizre of the city Hakkari, in which PKK members attacked with rockets an armored police vehicle. On Monday night two of the city's residents were injured by unidentified gunfire. Late in the evening there was an attack with rockets at the security department of Cizre, as well as the police station in the same area. From the attacks two policemen were wounded.
The PKK has announced that it ceases the temporary ceasefire that had been announced before the Turkish parliamentary elections.