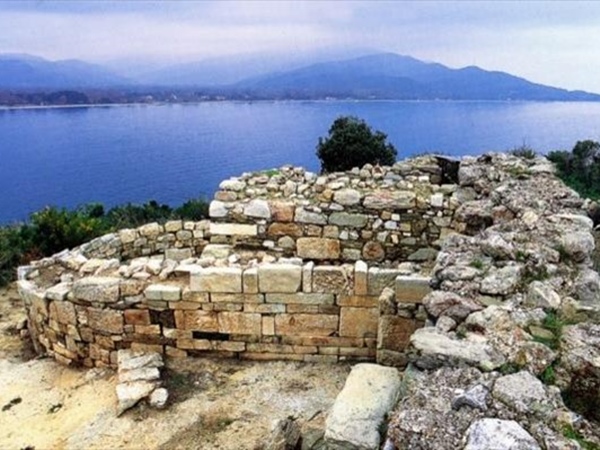 Athens, May 27, 2016/Independent Balkan News Agency
By Spiros Sideris
The most important finding from the 20-year excavations at ancient Stageira was announced in Thessaloniki in front of hundreds of aristotelistes of the leading global scientific community: The tomb of Aristotle, which has been preserved for 2400 years at his birthplace.
Many years of research leaves little doubt about the great importance of the tomb, which can now be matched to the Stageiritis philosopher.
Both archaeological evidence and old literary sources converge on the view that the domed building and the altar on a marble floor, which was revealed by excavations in the ancient city in 1996, belongs to the Hellenistic era and can only be the tomb and monument of Aristotle.
A funerary monument where the Stageiritis transported and deposited the ashes of the philosopher in Chalkida, immediately after his death, honored him as a hero, savior, legislator and second "founder" of the city, given that with his own mediation in Philip Stagira were refounded (340 p .g), having been destroyed by the king in 349 BC.
The official announcement for the tomb of Aristotle was made by Doctor of classical archeology Kostas Sismanidis, who has done excavations in the archaeological site of Stagira and was head of the 16th Ephorate of Prehistoric and Classical Antiquities.
The announcement is part of the World Congress on Aristotle, which is being carried out these days in Thessaloniki on the occasion of the 2400 years since his birth.
"We don't have proof but rather very strong indications – that almost reach certainty. The location where the edifice was built in the city is close to the market (in contrast to the norm), with panoramic views in all directions. The era of its construction is at the very beginning of the Hellenistic period. The incompatible for other uses shape. Its public nature of the great rush for its construction, with quality, but diverse building material that was reused. The existence of an altar on a square floor. All these lead to the conclusion that the preserved building was the vaulted tomb of Aristotle", K. Sismanidis said.
The funerary structure was detected between the 5th century gallery and the ancient temple of Zeus Sotiros and Athena Sotiras (6th century BC), between the archaic and classical city on the "Liotopi" peninsula.
The vaulted top view (about 10 meters), its shape, the existence of a marble rectangular floor with a blank surface-altar (1,30×1,70 m.) had much trouble the researcher archaeologist, as it precisely surrounds a square Byzantine tower.
The building had a roof with tiles from the Royal pottery, affirming its public character.