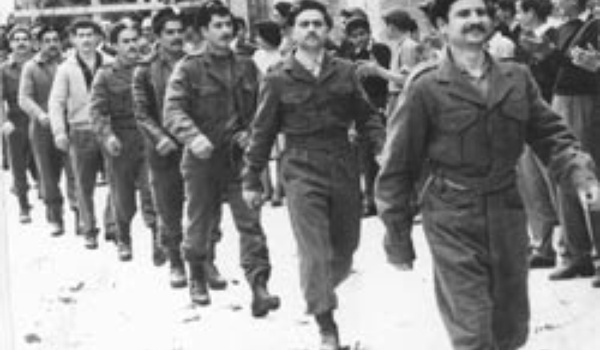 By Thanasis Gavos – London
Dozens of pages of documents included in the latest tranche of the so-called "migrated archives", referring to the former British Colonial Administration Office activities, contain admissions of failure by the UK administration of the late 1950's to deal with the armed EOKA struggle in Cyprus.
In the archives released today in London, a note by Major-General Darling, head of Operations in Cyprus after 1958, states that "the question may well be asked why, when EOKA was on the brink of defeat in March 1957, was the organisation able to stage such a spectacular recovery despite the fact that large forces and formidable apparatus of Emergency Powers were at the disposal of Government."
The British official concluded that Grivas, EOKA's leader, "in effect changed his tactics quicker that we were able to appreciate." Like many of his contemporary officials that had dealt with Cyprus, Major-General Darling pointed to the lack of proper organisation of the intelligence services as probably the main reason for failing to dismantle the Cypriot fighters' organisation: "[The intelligence machine] was not geared, technically or organically, to defeat the highly organised underground movement before its activities had taken root during the summer of 1958."
The epicentre of this post-mortem of what the British call the 'Emergency' in Cyprus was a report by Brigadier George Baker. In it he identified a number of reasons for failing to deal with EOKA. One of them was the short terms of secondments of experienced policemen in the Cyprus force, which did not allow them to get to know the country in which they were serving.
Brigadier Baker also noted the difficulties and delays in setting up an efficient system of preventing and detecting arms smuggling into Cyprus, as well as the fact that there were a number of specialist units requiring closer coordination. As far as intelligence was concerned, the report author stressed that "it was not reasonable to expect to defeat an underground movement by conventional means" and that "the highest priority must be accorded to perfecting the intelligence machine from the outset, in order that a strategy and tactics suited to defeating such a movement can be devised." He also noted lack of control in the collection of intelligence, difficulty of collation and lack of integration between army and civil intelligence.
Brigadier Baker also commented that the Cypriot Press "almost without exception, constituted an important part of the 'terrorist' machine", with no effective control over it by the British administration.
Commenting on the Baker report, the last British Governor of Cyprus, Sir Hugh Foot, conceded: "The most obvious lesson of our Emergency has been that almost everything depends on intelligence. Our failure to destroy EOKA was largely a failure of intelligence."