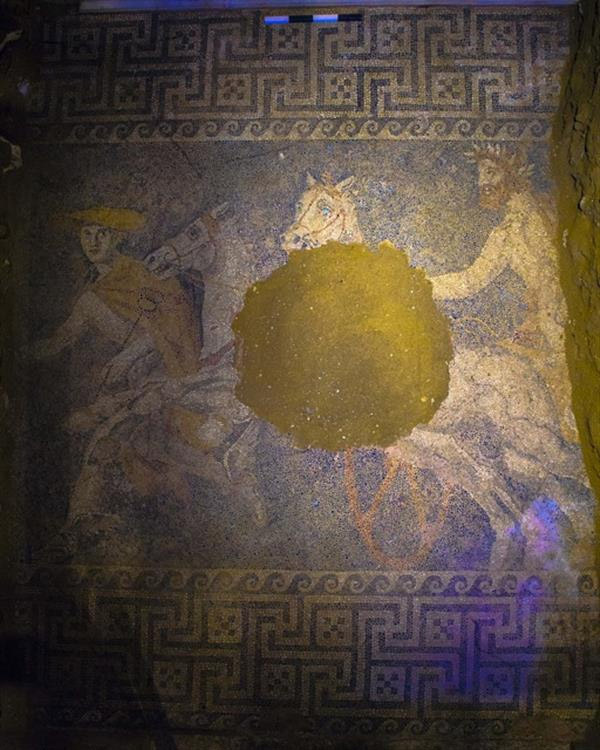 By Spiros Sideris – Athens
New amazing photos from the archaeological excavations in the ancient tomb of Kasta in Amphipolis see the light of day.
The new discovery refers to the biggest part of the mosaic floor that covers the entire surface area of the second chamber of the burial monument found behind the two caryatids.
The mosaic was discovered during the removal of part of the embankment, which is underway, and according to the announcement of the Ministry of Culture, it covers the entire surface of the chamber's floor, that is 4.5 m. wide by 3 m. long. It is made of small pebbles of white, black, greyish blue, red and yellow color.
The main scene is surrounded by a cartouche with a width of 0.60 m., which is composed of a double loop, squares and a spiral. The background of the scene is in shades of gray-blue.
The main scene depicts a chariot in motion, drawn by two white horses, led by a bearded man with a laurel wreath on his head.
In front of the chariot the god Hermes is depicted as a soul magnet, who is wearing a petasos, paletot, winged sandals and is holding a caduceus. The composition is directed from east to west.
According to the announcement of the Ministry of Culture, the composition is characterised by the excellent art in the attribution of the detailed characteristics both of the forms and horses, as well as the harmony of colors.
The composition is younger than the burial complex, dated in the last quarter of the 4th century BC
The mosaic has been damaged in the center, in the shape of a circle, 0,80m in diameter. However, many parts of the damaged portion have been found in the sandy embankment.
In next few days there will be an attempt to piece it back together and restore the synthesis of the overall picture of the performance, to the extent that is possible,.
The mosaic floor, east and west, has not been revealed in its entirety, as the excavation is still ongoing in these parts. In the south of the mosaic floor and between the pedestals of the Caryatids, archeologists revealed a limestone threshold, covered with white plaster.
To the north of the floor is revealed the marble threshold of the door that leads to the third chamber, decorated with Ionic molding at the bottom.
Also identified, just below the doorframe, inwardly of the third space, were two more parts of the marble door panels.