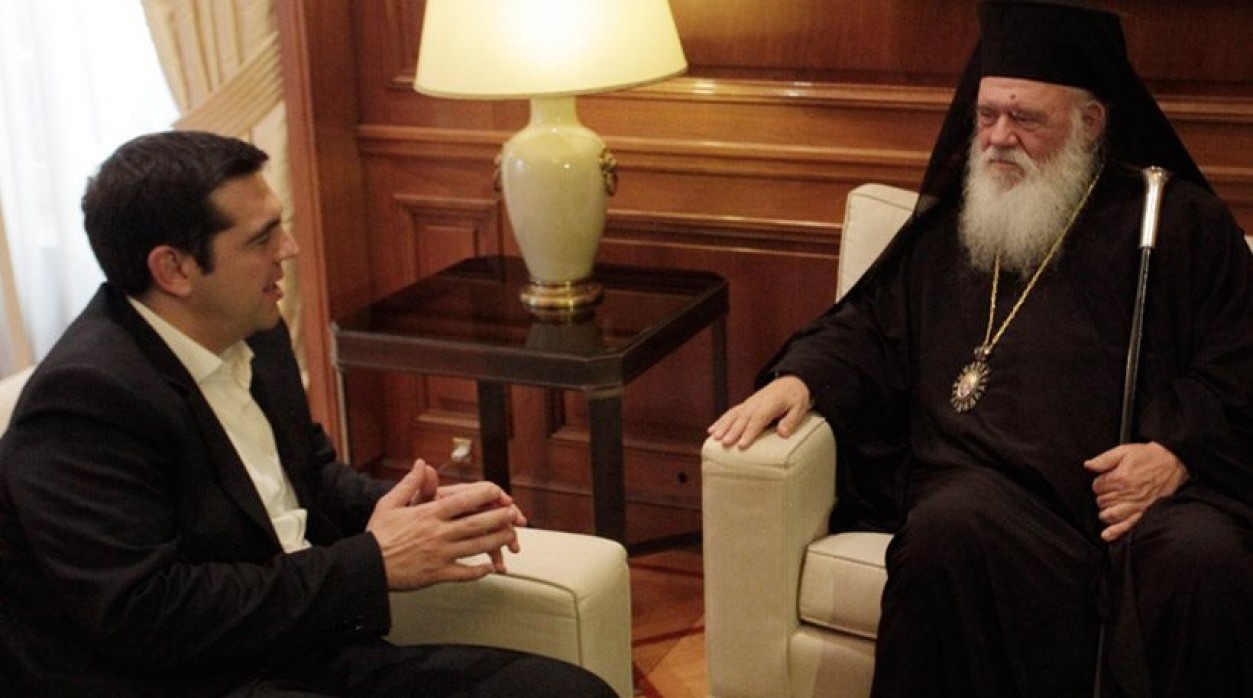 Prime Minister Alexis Tsipras had dinner with the Archbishop of Athens and All Greece, Ieronymos II, on Thursday evening, in response to part of the clergy's reactions on resolving the name issue with fYROMacedonia.
The two men discussed the matter, about which Ieronymos tabled Church's proposals in connection with the religious side of the issue, according to the Archbishopric announcement. The Greek premier informed him of the latest developments on the negotiations.
Alexis Tsipras, through his meeting with Archbishop Ieronymos, closed an open front, set up by a number of church members, who react negatively to any kind of use of the term 'Macedonia' in the name issue with fYROMacedonia, and prepare rallies throughout Greece. The Archbishop's announcement leaves no room for misinterpretation of the position of the Church, as it states that the Archbishop trusts the constitutionally responsible bodies (government) to handle national issues with a sense of responsibility. He even underlined that, "right now, no ones needs rallies and high-pitched voices, but rather national consensus, a mood of conciliation and unity."
This announcement has a dual meaning for Alexis Tsipras. On the one hand he avoids having the Church against and opposite him, while on the other hand, in the event of protests, he will "accuse" the opposition, as the ND Head, Kyriakos Mitsotakis, told his party's MPs that their participation into any such protests about the name issue should be decided based on what their conscience tells them is right.
Earlier on Thursday evening, the Greek Foreign minister, Nikos Kotzias, visited Alexis Tsipras at Maximos Mansion where, for one-and-half-hours he was informing him on the latest developments around negotiations on the name issue…/IBNA
Photo (Library)