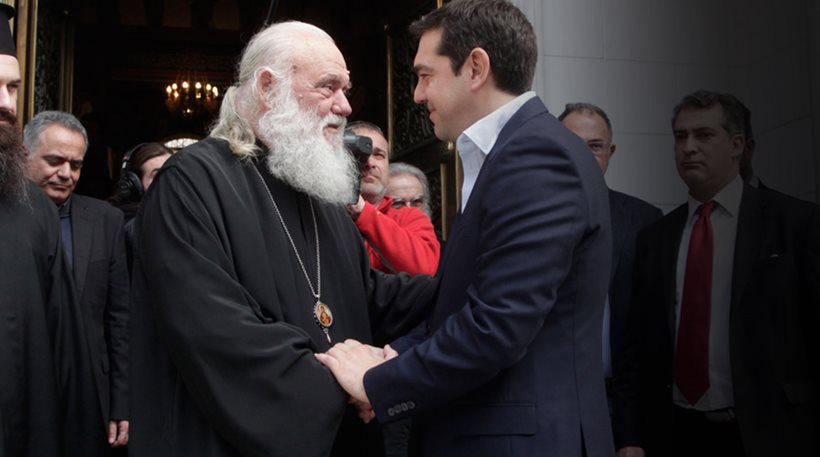 Athens, March 15, 2016/Independent Balkan News Agency
By Spiros Sideris
Greek prime minister Alexis Tsipras will have a meeting with Archbishop of Athens Hieronymus on Wednesday, according to the daily "To Vima".
Lately there are violent reactions on the part of the Church on issues such as the burning of the dead, but also the change of the subject of religion in schools.
The statements of the minister of Education N. Filis on the replacement of religious class with a religious studies course (with unknown until now content) has alarmed the Hierarchy, which hopes that in the PM – Archbishop meeting both sides will have a chance to express their point of view, that is how the government intends to proceed on the matter of religious class and how the Hierarchy intends to react.
In a recent Synod of Bishops, the Metropolitan of Nafpaktos Hierotheos  said that religious class has evolved and no other changes are needed. It is, he said, of course based on the Orthodox Religion, but from catechistic in nature has already become with the assistance of the Church a broader cultural and epistemic subject centered on religion. It appears that a new front opens for the government. Last Saturday at the enthronement of the new Metropolitan of Karpenisi, the Archbishop warned: "Some want to put the Church on the sidelines".
The Archbishop will place the so-called "red lines" of the Hierarchy to the subject of religious class, which is the obligatoriness of the of religious class, its orthodox character and the observance of teaching hours based on a timetable.
Education minister Nikos Filis in statements made in September, after the meeting with Archbishop Hieronymus, pointed out that the church and state roles are distinct and had assured that from the side of the Education ministry there is a desire to have a cooperation, not opportunistic but standing, on all issues in the framework of a common Church-State dialogue committee. For the matter religious class, Nikos Filis had assured that there is understanding and there will be no unilateral actions.
A second issue that Archbishop intends to bring to the prime minister's consideration is the seamless visiting of bishops in schools. They will not, he will emphasize participate in the teaching, nor of course evaluate the teachers.
Regarding the refugee problem, A. Tsipras will require more involvement of the Church. The Church however has already adopted a Hot Spot (that of Samos) and is the first, which a year ago had predicted the magnitude of the problem with active participation in humanitarian programs.