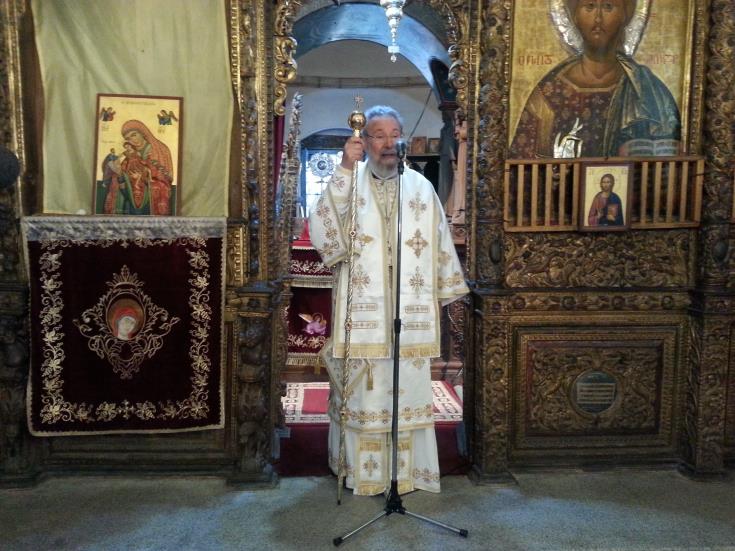 He called on the UN Secretary General Antonio Guterres to be rigorous and also inspired by the principles of justice.
By Michalis Michael
The Cypriot Archbishop Chrysostomos, at the end of the mass at the Chrysoroyiatissa Monastery, referred to the Cyprus issue, addressing the UN Secretary General, Antonio Guterres. "I believe we and the Turkish-Cypriot leader Mustafa Akinci, who might not admit it but it is obvious that he is being pressured by Ankara, want different things," he said, noting that Mr. Akinci lacks a will of his own and that what Ankara wants is what Akinci stands for.
He added that "it would be good arbitration, for both of them to meet with the SG at the end of September".
However, he questioned whether the UN Secretary-General would be able to do a good arbitration. Would he have, he asked, the courage to say "this is right and I accept it, this is not and I reject it? Come and let's make a proper state; Can he really help?"
The Archbishop of Cyprus expressed his doubts, "we should figure it out on our own, since" he states, "we already know that Turkey wants everything. If possible, it would want all of Cyprus". He thinks that he does not believe that we could hold talks and find a solution. "It has been 45 years we haven't been able to get along; this will suddenly change now?" he asked.
"We would like a rigorous UN secretariat, who would nonetheless be inspired by the principles of justice, and will say 'come and let us make a proper state, that will function'. Because if it does not function, it will collapse, and when it collapses everything will turn to dust with it", he added.
He wished Antonio Guterres would rise to the occasion and order that "It is those principles I, the UN Secretary-General, stand for, and believe those measures should take place. Then, we will congratulate him", he added.
"If the SG does not match those circumstances, I don't think anyone else can help. The powerful of the earth, I don't think. They want their own vested interests", he concluded. /ibna