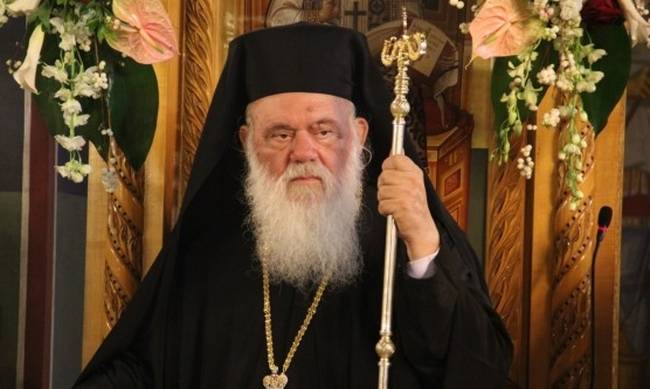 Athens, December 31, 2015/Independent Balkan News Agency
By Spiros Sideris
"We should not lack in vision and hope" was the urge, and "for each of us to have a vision, hope, spirit of optimism and it would be a great blessing if all visions converged in one direction, the vision of our country, the hope for the country", was the advice of Archbishop Hieronymus, during ceremony for the cutting of New Year's cake, in the Archdiocese of Athens, in the presence of many prelates, politicians and people.
However, as noted the head of the Greek Church, "for all this to materialise there is need for seriousness, prudence, honesty and above all cooperation."
The archbishop referred to the emotion that comes with the turn of the year, but emphasised that the concept of time is different in humans than it is for God, in the eyes of whom its eternity, but in human eyes it is an invention to be able to regulate obligations and the needs of one's life.
"It's a milestone in everyone's life this little ceremony, this short sequence, because this point makes us part with a part of our lives, such as the year that passed and we are charged emotionally because we all carry within us a big hunk of ourselves and of our projects, our successes, our failures", he said.
Indeed, in this context, he gave his own interpretation to the term 'sin': sin means failure, I aim but do not achieve my goal. Therefore, he said, sin should not frighten us, we just need to try again.
Moreover, the archbishop of Athens and All Greece made reference to friends who left, the memories they left, but also the new person who came into our lives. He spoke of the insecurity that conquered us in the past year, the poverty that struck us, the difficulties that multiplied and highlighted the need for each of us to make an account of the year, to project again our new demands, our expectations for 2016.
Finally, he wished the new year, to be better than 2015 and find us anyone and all together, fighting, fighters for the good of the country.
Present in cutting of the cake in the Archdiocese of Athens was, inter alia, the State ministers Alekos Flabouraris, Education Minister Nikos Filis, Deputy Finance Minister Trifon Alexiadis, the Deputy Prime Minister Terence Kouik, and Deputy Foreign Minister Ioannis Amanatidis.