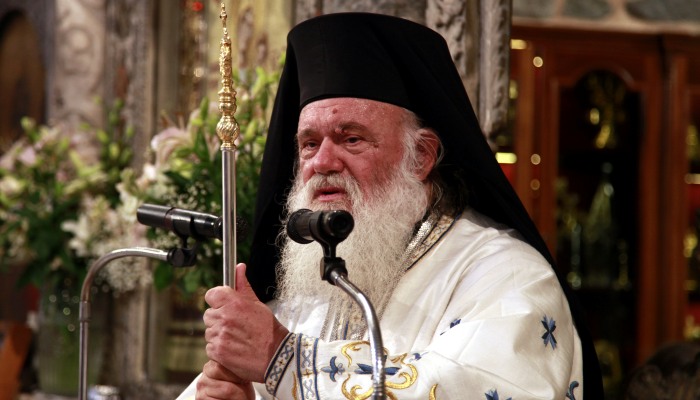 Athens, December 14, 2015/Independent Balkan News Agency
By Spiros Sideris
It is everyone's right to choose the cremation, but this is contrary to the "beliefs" of the Orthodox Church and therefore the cremation chambers cannot operate within the cemeteries, said on Sunday Archbishop Hieronymus, speaking on television.
Avoiding to comment on the extreme voices of bishops on cohabitation, the archbishop stressed that the issue probably should not pass in Parliament and become law, saying: "One such issue that is personal choice of some people has to get into family law; Must it go to the House and become state law?".
As to the good relationship with Prime Minister Alexis Tsipras, despite whatever differences that may divide them, he said he had honored him with his acquaintance before he became prime minister and added that he can have a good conversation with him.
Hieronymus explained that there is need for consultation among the political parties and the Church, as the purpose is common and has to do with helping the citizen.
The archbishop did not "chew" on his words on the refugee crisis either, which called it the problem of the century and expressing his view of the causes that caused it said: "Why did they leave? Is it because we bombed them? The civilized Europe bombed them. It pulled them out of their homes and turned them into this stream. They come here, drown at sea, we welcome them and now go to Europe and see their stakes they are placing to forbid them passage. Should the guilty not assume their responsibilities? Or will they ban them entry and have them return back to Greece?"
The Archbishop expressed his reservation on the construction and operation of a mosque in Athens. Although he recognised that everyone has a right to have a place of worship for its religious obligations, he stressed that there shouldn't be taken any hasty decisions: "As things stand it would be naive to haste, without knowing who will run it. Without knowing whether it will be a place of prayer or if it will be a place of teaching and fundamentalist".
Referring to the economic crisis that has been plagued Greece in recent years, Hieronymus explained that first came the spiritual crisis, followed by the moral and in the end the economic.
He stressed that the charitable work of the Church, which has embraced the suffering of thousands of citizens from the crisis is not his or the bishops' and priests', but of the people that enhances the efforts of parishes and dioceses.
"When we say the Church helps, we mean that we all help and the miracle and message of optimism learned from this crisis is that this people appeared so brave, so strong in their offering, that it has taken all of us by surprise. The Church does not do all these things alone. It simply organizes and monitors", Hieronymus explained.