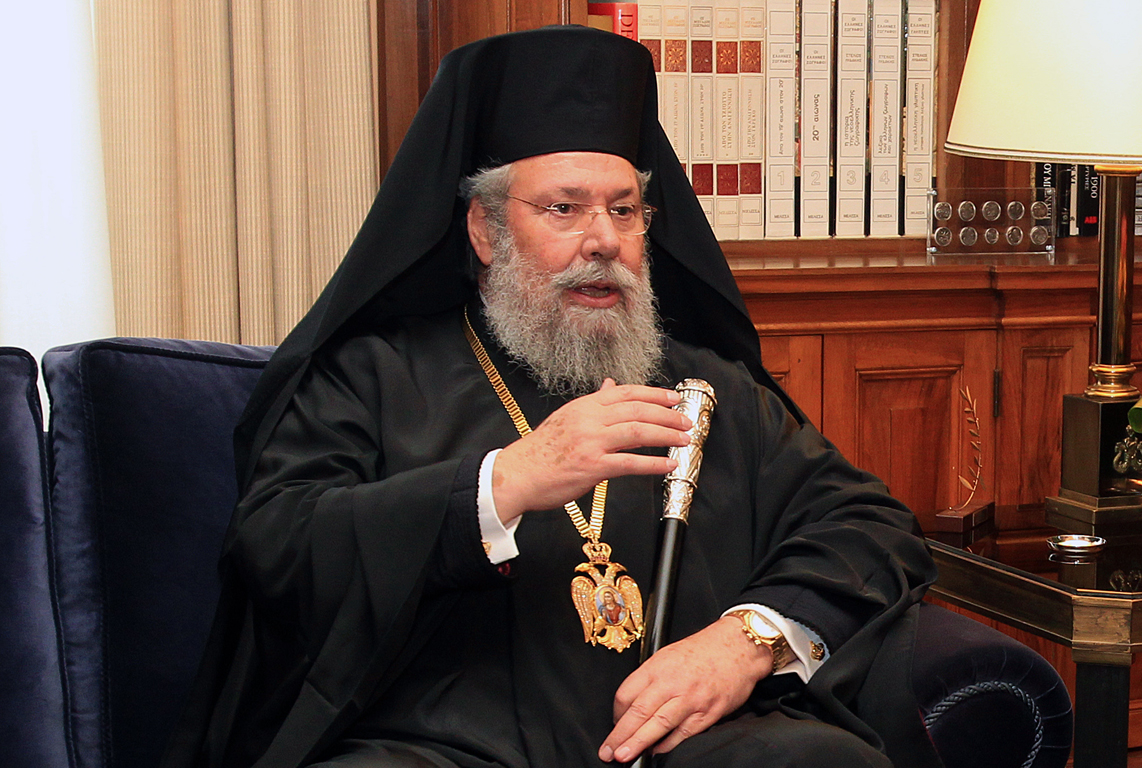 By Thanasis Gavos – London
The Church of Cyprus has always had a unique role in the country's affairs; therefore the local Archbishop's views are seen as carrying extra gravity.
An occasion such as the first official visit to the UK by the Archbishop of Cyprus Chrysostomos during the second full week of May provided him with many opportunities to express his views on a wide range of issues – views which could not be treated as having any less significance than usual.
The head of the Cypriot Church managed to abide by a heavily loaded schedule, which entailed numerous meetings with the Cypriot communities and liturgies in Greek Orthodox churches in London and Birmingham, but also meetings with the Archbishop of Canterbury and the Bishop of London, as well as with the British Minister for Europe and his shadow minister.
The main focus of his conversations was his campaign to secure the preservation or restoration of centuries-old religious sites and monuments in the Turkish-occupied northern part of the island. Indeed, one of the main reasons for the timing of his UK visit was to request the expats' pecuniary contribution towards the work expected to start soon for the restoration of one of Cyprus' holiest pilgrimages, the Monastery of St Andrew the Apostle in Rizokarpaso.
The main community event organised on Saturday 17th May was a dinner to honour the Archbishop, while also celebrating the 40thanniversary of the establishment of the National Federation of Cypriots in the UK. In his address to the audience that packed the hall in north London, His Beatitude sent three messages. As he said, firstly, he wants all religious monuments in the north to be preserved, "as our Government has done with the mosques in the free areas." He added that in view of the US Vice-President's visit to Cyprus in the week he had secured a meeting between him and the Church with the intention of asking for the American intervention in order to enable the restoration work envisaged.
The second, purely political message was also addressed mainly to Turkey. Archbishop Chrysostomos dismised any talk by Turkish officials about the creation of two states in Cyprus as a way to settle the long-standing problem as nothing but "dissonances". He spoke of the need to reach a solution which would be as just as possible, and called upon Ankara to "realise that it's in both her and the Turkish Cypriots' interest to achieve a workable settlement."
Reinforcing his message, he stressed – as he had done on previous occasions during his visit – that the Church of Cyprus fully supports President Anastasiades' efforts to that direction.
The third message was both towards the government and the country's external creditors. Despite the squeezed finances of the Church, said the Archbishop, the funds for supporting the poor and the children in need would not be reduced. "If anything, we will increase it, be that through borrowing or selling Church assets," he noted.
Reminding everyone that the Archdiocese is still a major player in the affairs of the island, Archbishop Chrysostomos repeated his pledge to stand by the Cypriot people and be a source of solace, "as it has been happening for centuries."
Striking an upbeat note in the end, he said he was optimistic that Cypriots will soon live through the days of growth again: "Our people have learned how to live by spending. But they too know how to live with little."