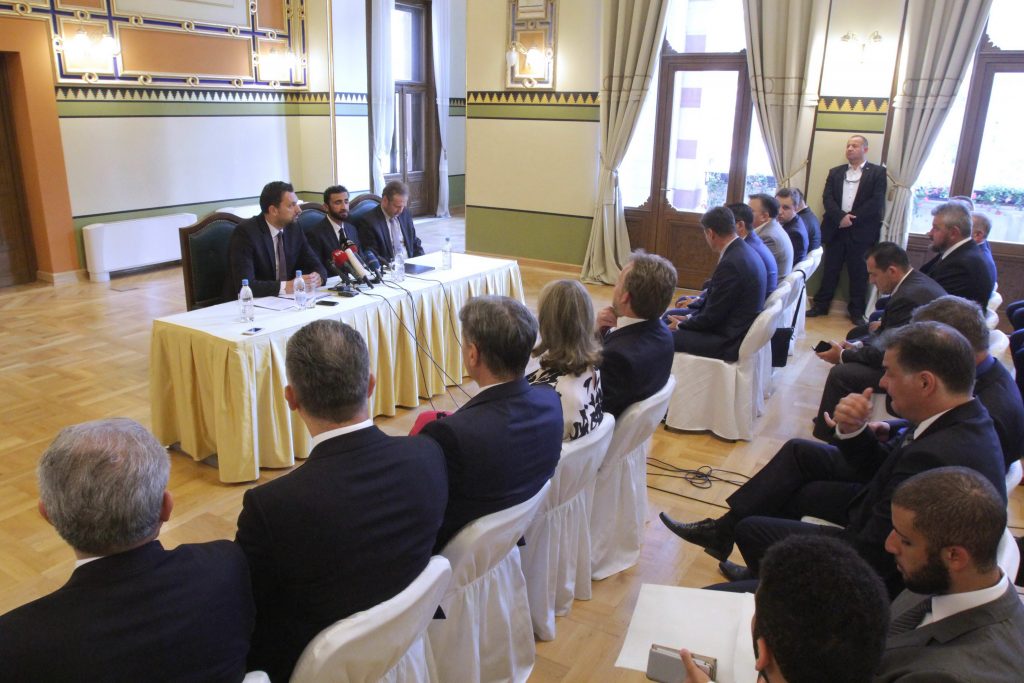 Sarajevo, September 13, 2016/Independent Balkan News Agency
By Mladen Dragojlovic
The expansion of Arab countries investments in BiH continues as the Dubai based Investment Corporation (ICD) signed an important Memorandum of Understanding with the Sarajevo Canton (SC) Government.
The Memorandum was signed in old City Hall in Sarajevo and doesn't specify the projects which ICD will finance but oblige both sides on close cooperation. This important document was signed by the Executive Director of Arab companies, Mohammed Ibrahim Al Shaibani, and the Sarajevo Canton PM, Elmedin Konakovic. The signing ceremony was also the crown of months long negotiations between representatives of the Government of SC and representatives of the ICD, which will give the possibility for developing a feasibility study at several locations in Canton Sarajevo to the company and to submit requirements for possible future investments to the Government of SC.
According to Al Shaibani, ICD is one of the biggest lobbyists for BiH in the Gulf countries. He added that Sarajevo and BiH are important for the company and that the signing of the Memorandum of understanding represents an attempt at a greater investment in Sarajevo.
"I worked very hard in order for Fly Dubai to establish direct airline with Sarajevo. Also, two years ago agricultural corporation with Zeraa Agriculture Investment was agreed, and it bought factory "Bosnaplod" in Brcko, in whose equipment was invested about 10 million EUR in recent months and directly employed hundreds of people and thousands indirectly. Recently, the "Hepok Company" from Mostar was also purchased, which is a great investment in agriculture. We are hoping for a large employment and modernization of the current capacity of the company", Al Shaibani told media in Sarajevo.
Since the Memorandum marked the beginning of cooperation, but without specifying in which projects the Arab investors will invest, Konakovic explained that representatives of the Government of SC visited several destinations from Bjelasnica to Jajce barracks with representatives of ICD and that there are five or six interesting projects for them, as well as that the financing of the whole process will be done by the Arab Fund.
"The Government of SC is promoting space for foreign investment for 17 months. We attracted the interest of serious investors who are already working in BiH, and the entire space of Skenderija Sport Hall will be in special focus in the future. We will perform a detailed analysis of its condition over the next 12 to 15 months", Konakovic emphasized.
Investment Corporation of Dubai is State Investment Fund of Dubai, and it is owner of Fly Dubai, Fly Emirates, hotel chains One & Only and Atlantis. They entered BiH by opening tourism, invested in agriculture, while they have bought Port Montenegro in Montenegro.