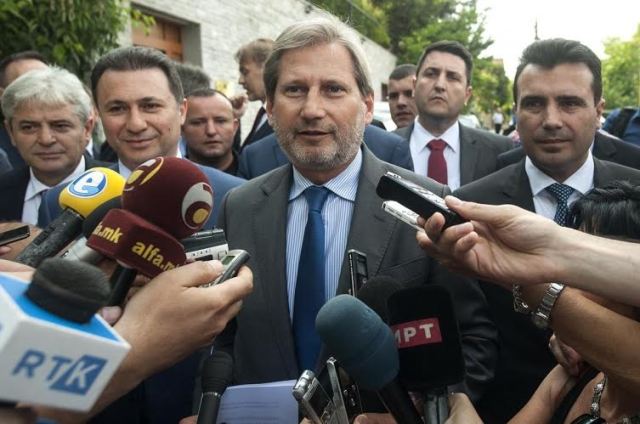 Skopje, 14 January 2016/Independent Balkan News Agency
By Naser Pajaziti
Political crisis in FYR Macedonia remains unclear, while the country is expecting a visit from the EU Enlargement Commissioner, Johannes Hahn on Friday. Political parties have remained stuck in their opposite positions, while tomorrow marks the final deadline for the appointment of the interim prime minister and the resignation of the current prime minister, Nikola Gruevski.
It is not known if the latter has handed his resignation, while some portals report that he has done such thing. But the question is whether the elections will be held on 24 April or whether they will be postponed.
After a two day visit to Skopje, MEP Richard Howitt, said that it's important to reach an agreement and at the moment that Gruevski resigns, there will be a postponement of the election date.
"This must happen, because the new government must have 100 days at its disposal to prepare the elections. The main issue here is whether this country will become a democratic state and whether the citizens will be entitled to decide in the elections. It's not important when the elections are held, but what it is important is that the elections are held in a democratic and fair way", said Howitt, who was one of the European diplomats that assisted in the process of striking the June 2 agreement which helped in overcoming the political crisis in FYROM.
Meanwhile, political parties are not offering any details as to what will happen in the days to come.
Their spokespeople have said that they are waiting EU commissioner Hahn to verify the process of the June 2 agreement and to decide whether to hold the elections on April 24 or not, because the entire process of the implementation of the agreement in practice has been delayed.
A few days ago, opposition leader, Zoran Zaev declared that there are no suitable conditions to hold the elections on April 24.
"Hahn's arrival will be a great help and we are expecting for the deadlines to be determined. I cannot speak about an election date, because all options are open", declared leader of SDSM, Zoran Zaev.
Tomorrow's visit of EU commissioner Hahn to Skopje will be decisive in unblocking the gridlock and in deciding on the election date. /ibna/