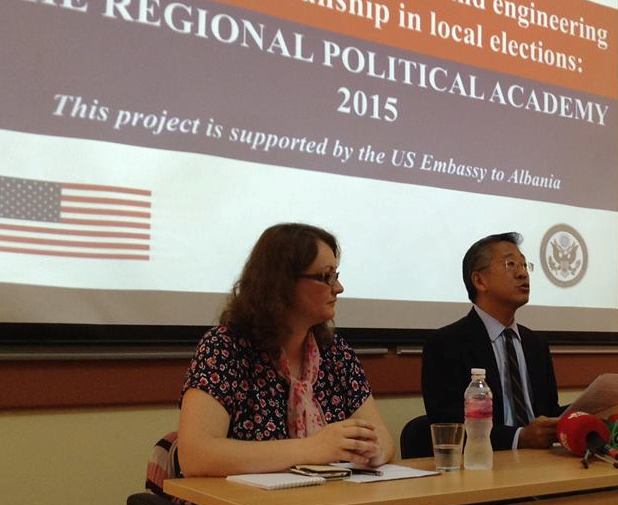 Tirana, 12 June 2015/Independent Balkan News Agency
A strong appeal has been issued by the head of US diplomacy to Albania, who calls on the citizens not to sell their votes in the June 21 local government elections.
"Don't sell your votes. On election day don't stay at home. Vote", was the message that ambassador Donald Lu issued in the Youth Political Academy which was held in Korca, with the participation of members of youth forums of political parties and young local activists (photo).
The event is one in a series of regional political academies organized by the Albanian Institute for International Studies as part of their Embassy Democracy Commission funded project, which encourages youth participation in local elections and youth active bipartisan input in the wider electoral agenda.
During the event, Ambassador Lu stressed the importance of youth voting: "This is a country where young people hold the power – the power to elect their own leaders and the power to change the whole political system. You have the power to reject criminal politicians, vote buying and angry political rhetoric. But you only have this power if you vote."
Emphasizing the importance of participation, the Ambassador said "there's a saying in America: 'If you don't vote, you can't complain.' We all love to complain about our politicians. You have the power to choose your leaders. Don't sell your votes. Don't listen to angry political rhetoric. And most of all, on election day don't stay at home. Vote."
Mr. Lu's appeal comes amid accusations launched by opposition against majority of repeatedly trading votes. Democratic Party's accusations are addressed for SMI-Socialist Movement for Integration in particular, a party which was founded after leaving the Socialist Party in 2004. SMI entered a 4 year coalition with the Democratic Party after the 2009 elections, when the right wing could not form a government without joining the left wing of Ilir Meta.
In 2013, SMI joined the left wing led by the head of the Socialist Party, Edi Rama.
In the first months of the coalition, the opposition didn't attack Meta and SMI. Recently, the opposition has launched a constant attack against SMI and its leader Ilir Meta, accusing them of purchasing votes.
Amid these accusations, there's a significant perception among citizens that SMI is involved in the purchase of votes.
Recently, SMI has started to broadcast a TV spot where it called on Albanians not to sell votes and protect them. Earlier, the President of Republic issued the same appeal through a message for the elections: Do not sell your vote. /ibna/