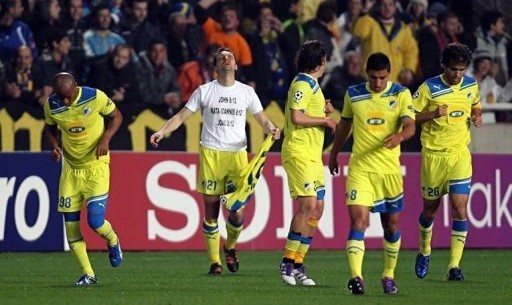 Review Hari Stefanatos
APOEL triumphed over Aalborg in "GIS" Nicosia, beating the Danes 4-0 and will be present to the Champions League groups for the third time in its history.
With the 1-1 draw in the first game of the playoffs that lead to the top European league, Giorgos Donis' team did not impress but managed to scrap a valuable 1-1 draw. In the second game in Cyprus, however, the team geared up and showed it is ready for the challenge of the group stage despite the result of the first match against Aalborg. The hosts did not encounter any serious difficulty from the Danes, who they beat 4-0, sending them to the Europa League groups.
APOEL took advantage of the major weaknesses of Kent Nielsen's team in defense: In the first big mistake of the Danes, Vinicius scored with a shot from inside the penalty after an assist by De Vincenti, scoring his second goal against Aalborg.
A chance by the Danes in which APOEL required luck and the skill of Pardo occurred at 36′, when the header of Enevolntsen from the left corner of the small area, was blocked by the keeper of the Cypriots instinctively keeping them in the lead.
The big step happened in 43′ when De Vincenti from creator became the scorer, making it 2-0 after a corner kick from Mario Sergio at the heart of the Danish defense. After that APOEL simplified the process, ensuring the qualification with an emphatic 4-0.
A series of missed opportunities was succeeded by Aloneftis making it 3-0 after a spectacular assists from Amorin, while the fourth goal came from a long shot from Killian Sheridan in 75′ after a free kick from Pardo.
The supporters of the Cypriot team proved pivotal with their dynamic presence, while they also had a chance to see their team's new signing Rafik Tzempour, who came in as a substitution in 79′ in the place of Sheridan.
APOEL: Pardo; Alexandrou, Carlão, Guilherme, Sérgio; Morais, Vinicius; Gomes, Charalambides; De Vincenti, Sheridan.
AaB: Larsen; Blaabjerg, Thelander, Petersen, Kristensen; Thomsen, Risgård, Würtz, Wichmann; Helenius, Jacobsen.
(Source: Novasports)