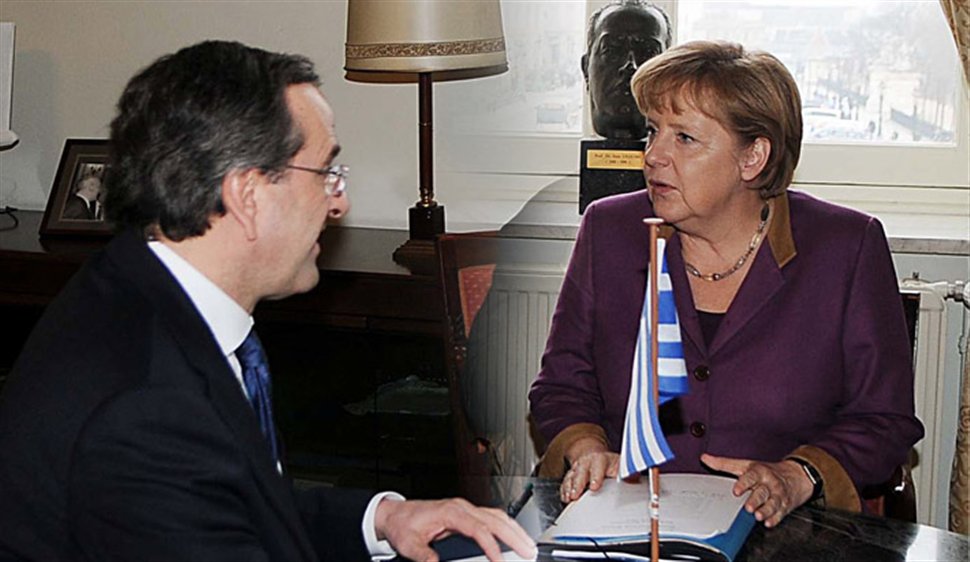 By Lefteris Yallouros – Athens
Greek Prime Minister flew to Brussels Thursday for an EU Council Summit. Antonis Samaras held a twenty minute meeting with German Chancellor Angela Merkel on the sidelines of the European People's Party Summit which he also attended, accompanied by Greek Finance Minister Yannis Stournaras.
Diplomatic sources are quoted in the Greek press as saying Mr. Samaras told his German counterpart that Greece cannot take any more horizontal measures of austerity, including fresh taxes, in order to close next year's fiscal gap. He also said his government is prepared to discuss only structural measures.
Greek TV network, Mega, quotes aides of the Greek premier saying the Greek debt issue should be addressed before European Parliament elections next year.
Meanwhile, troika officials are reportedly awaited in Athens early November. While Greek debt relief will not be on the table during talks with the Greek government, the stance of the country's officials will be along these lines.
IMF deputy spokesman William Murray revealed Thursday that the next inspection by the troika will focus on the 2014 budget and closing the funding gap for next year and not on the viability of the country's debt.
Mr. Murray also said that if additional measures are deemed necessary, those won't be horizontal and will not entail further reducing wages and pensions.
Samaras urges action on illegal migration
Upon arriving in Brussels Greek Prime Minister Antonis Samaras urged the European Union to take action on the issue of illegal migration which, as he said, is of great importance to Mediterranean countries.
Samaras told reporters: "We are here to push for more Europe, a better Europe, a digital Union, a banking Union, for more jobs – especially for the younger generation – and growth. But we are also here to make sure we find the right solution to the ongoing, difficult problem of illegal migration; an issue of utmost importance especially for the countries of the South and the Mediterranean."
Mr. Samaras agreed with Italian PM Enrico Letta recently to push at EU level for more resources from the Frontex border control agency and Eurosur as well as broader diplomatic action with countries in Africa and the Middle East.
The migrant crisis would be a priority next year when first Greece, then Italy hold the EU's rotating presidency.