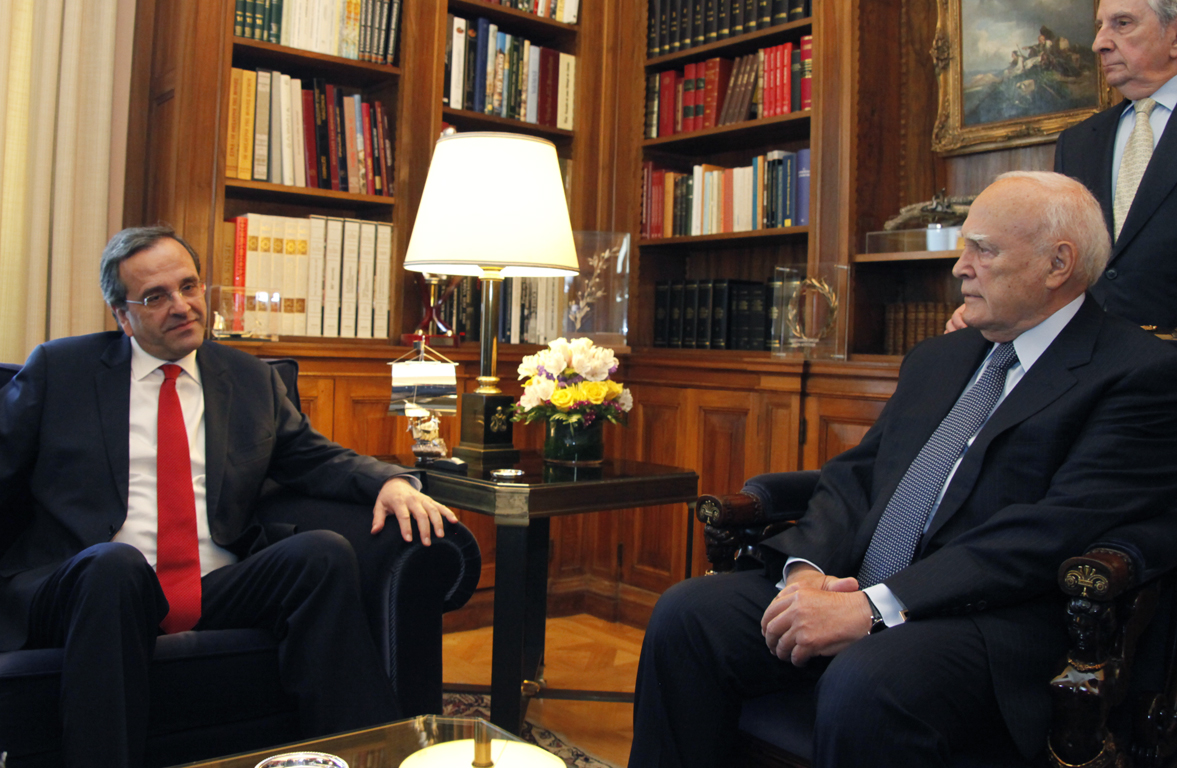 By Spiros Sideris – Athens
"We have come a long way to blow it all away", said the Prime Minister shortly after exiting from the Presidential Mansion.
The President and the Prime Minister agreed that a minimal understanding between the political forces of the country is imperative. The meeting took place in the Presidential Palace immediately after the inauguration of the new ministers Dendias and Skrekas.
In short dialogue the two men had in front of the cameras, Karolos Papoulias pointed out to the Prime Minister that "It's interesting what comes and what happened. They have left traces. The situation requires what I always thought: a minimum political consensus from all parties, united to confront all that is coming as avalanches".
Antonis Samaras responded by referring to the meeting Papoulias – Tsipras: "I heard you say it at noon and I agree".
After the meeting with the President of the Republic, Samaras stressed that "Mr. Tsipras called for early elections again tonight, what the Greek people does not want and what the foreign markets fear".
"I had the opportunity to reiterate that there will be no early elections. I have the belief that the Greek MPs will responsibly elect a new President of the Republic", noted the Prime Minister to add that "we have come a long way to blow it all away".
"The response of Mr. Samaras to the alternative proposal tabled by the Chairman of SYRIZA confirms our assessment that he does not want a political consultation and chooses the artificial polarisation and destabilisation", was the first comment of SYRIZA on the statement of the Prime Minister outside the Presidential Mansion.
"The fact that he refuses to consent to the face of the new President of the Republic shows that his only focus is in his political survival", notes Koumoundourou and restores the proposal: "we insist on the need for stability and smooth democratic developments that can guarantee the strengthening of the negotiating position of the country and the exit from the crisis".
The discussion between the President of the Republic and the Prime Minister preceded the inauguration of two new ministers, N. Dendias and K. Skrekas by the Archbishop Hieronymus.