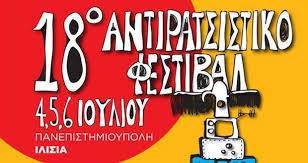 By Spiros Sideris – Athens
With the slogan "Lets erase the borders, defeat fear, not to let the world become a prison", the 18th Anti-Racist Festival of Athens gives its the annual meeting in the Ilision Campus on Friday, Saturday and Sunday. During the same periood the 17th Anti-Racist Festival will be held in Thessaloniki.
With music, discussions, dance, art, events, locals and immigrants send a message of solidarity and common struggle against racism and fascism.
The antiracist Festival is here this year as well, more than any other year to break the boundaries that separate people. To share and discuss all that unite us. To watch together a show that speaks the same language and refers to the needs and dreams of every man. But also to extend our flavoring horizons tasting multinational flavors and experience the tradition of our neighbors through their dances and songs.
So this year the antiracist festival opens its horizons to Chania, Volos, Rethymno, Kozani, Chios, Larissa, Athens and Thessaloniki. Others have already taken place and more are preparing to open their doors to the public and organizations.