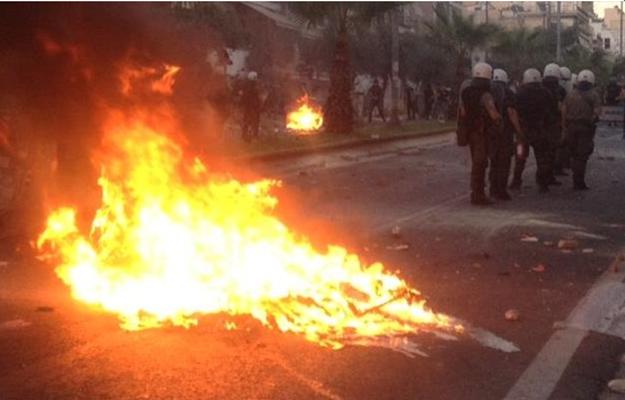 By Christos T. Panagopoulos
Friends and relatives will gather on Thursday morning at 11:00 at the cemetery of Schiston in Greece to bid the last farewell to 34-year-old Pavlos Fissas, who was stabbed till death in the town of Amfiali by a 45-year-old man, who later confessed his crime, as well as that he belonged to the extreme right neo-Nazi party of the Golden Dawn.
At 18:30 a protest has been scheduled in the Davakis Square in Nicaea.
Meanwhile, the perpetrator who confessed the murder of Pavlos Fissas, was conducted on Wednesday evening before the prosecutor, who gave him a due date to defend himself till Saturday.
He is charged with the crime of homicide by intention and the violation of the arms act. Three more individuals, the perpetrator's wife, a woman who is a relative of his, as well the head of the local organization of the Golden Dawn in Piraeus – to whom have been already been pressed charges at misdemeanor level, will be conducted on Thursday at 15:00 before the interrogator at the Prosecution Office of Piraeus in order to defend themselves. The two women are accused of perjury and and withholding data regarding objects allegedly removed from the home of the offender, while the head of the local organization of the Golden Dawn in Piraeus is accused of violation of the arms act.
"I want the murderer to be executed"
Moreover, Fissas's father, speaking to the ANT1 Greek television channel said: "I want the murderer neither to be tried nor to be imprisoned, but to be executed. This is the only vindication for me".
He accused again, citing to witnesses, the attitude of the police as well as the delaying of the ambulance to arrive at the crime scene. In another statement he made to the MEGA television channel he asked the police to find the one who called the perpetrator, after he had committed the crime.
Riots in Athens suburbs and in Thessaloniki
Police forces extradited a total of 65 individuals near Keratsini and Nicaea in riots which occurred after the completion of the anti-fascist protest on Wednesday, on the occasion of Pavlos Fissas's murder.
36 individuals have also been extradited in the city of Thessaloniki, where police forces used tear gas and flash bombs in order to scatter the riots.
Sources: AMNA, Naftemporiki
You may also read: