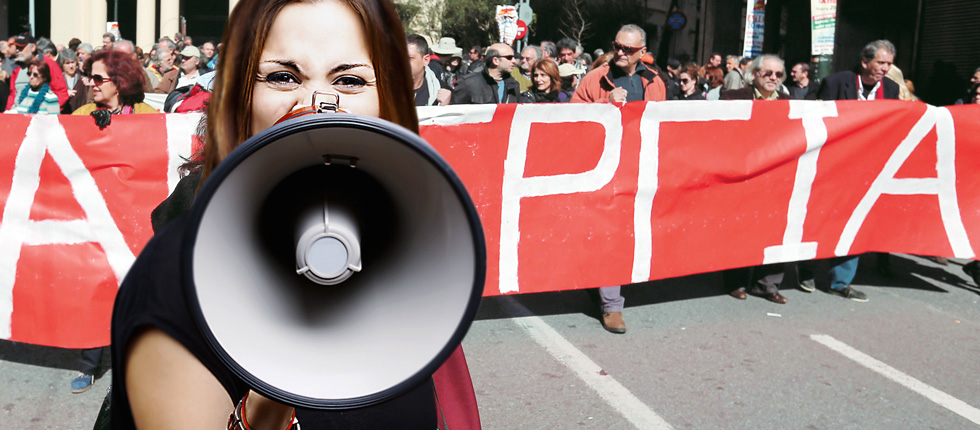 Athens, February 4, 2016/Independent Balkan News Agency
By Zacharias Petrou
Thursday's general strike called by the largest Unions in the country, GSEE (private sector workers union) and ADEDY (public sector employees union), will cause a "blackout" nationwide as everything will be brought to a halt.
Farmers – who will gather in Athens, bringing their mobilizations to the capital – will join in along with various professional groups including doctors, lawyers, engineers, teachers, pharmacists, scientists and more to protest the government's social security reform plan.
Two separate marches to parliament are scheduled, one by the umbrella Unions and another by the Communist PAME Union. A march by a smaller group of traders and small business owners will also take place.
Moreover, petrol stations will be closed throughout the country as gas station owners will join the strike. Public transport will also come to a standstill. Dock workers, the federation of seamen and air traffic controllers will strike too, meaning ferry routes and flights will be cancelled.
It should be noted that the media were on strike on Wednesday – a day before the general strike – in order to report the news around the strike action and provide coverage of mobilizations as normal on Thursday.
Farmers
Meanwhile, blockades across the country by farmers will remain in place, with traffic halted along approximately 30 points of the national road network.
Farmer union representatives held a meeting in the northern city of Katerini on Wednesday to discuss the future of their mobilizations. They decided to reject the plan put together by Labor Minister Giorgos Katrougalos for social security reform and continue their protests and blockades.
Border crossings with Turkey and Bulgaria will be blocked off along with various other points of the national road network across Greece. Farmers also warned that they will begin to block roads off indefinitely if the government doesn't withdraw its social security reform plan and abandon ideas to increase taxation of farmers. They also warn they will shut down access to ports if the government doesn't accept their demands.
Talks
Despite the protests across Greece affecting the popularity of the government, Prime Minister Alexis Tsipras held a meeting on Wednesday with Labor Minister Giorgos Katrougalos ahead of the continuation of talks with creditors on the thorny social security reform.
The meeting between Katrougalos and creditors that was scheduled for Wednesday at 16:30 was moved to Thursday at 14:00.