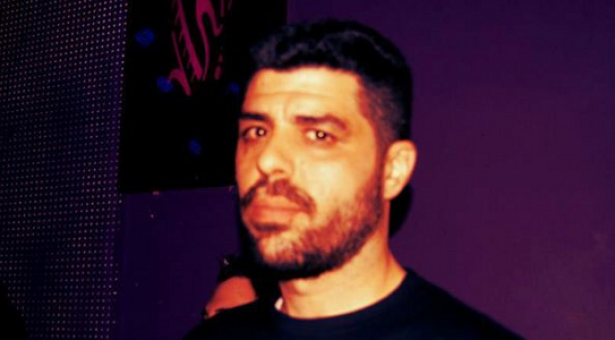 By Lefteris Yallouros – Athens
Greek police arrested a supporter of the neo-Nazi Golden Dawn party for allegedly murdering 34 – year – old left-wing hip hop artist Pavlos Fissas (photo) on Wednesday morning.
Fissas was stabbed to death in the area of Keratsini, Piraeus where he lived and was known an outspoken anti-fascist activist. He suffered two stab wounds to the chest, authorities said.
Police raided Golden Dawn offices in Athens within hours of arresting a 45-year-old who later admitted to attacking Fissas as well as being a supporter of Golden Dawn. His wife was also arrested on suspicion of impeding an investigation.
Violent clashes broke in several Greek cities following the arrest where anti-racist rallies were held.
Greek political parties condemned the fatal stabbing of Fissas while Public Order Minister Nikos Dendias proposed a public dialogue regarding legislation on what constitutes an "armed gang."
overnment spokesman Simos Kedikoglou called "on all political forces to raise a barrier to the vicious cycle of tension and violence. Democracy needs stability, cohesion and responsibility from all."
Ruling New Democracy noted that the murder was "the result of the Nazi belief of hatred nurtured and promoted by Golden Dawn" and called upon authorities to show utmost strictness.
Main opposition Coalition of the Radical Left (SYRIZA) leader Alexis Tsipras said that the incident was part of a "destabilization and disorientation plan orchestrated by extreme right centers and the neo-Nazi gang Golden Dawn."
Socialist PASOK called Golden Dawn a "criminal organization" targeting Greeks and immigrants.
Neo – Nazi nightmare Very Much Alive in Greece
Founded in 1985 as a tiny fringe party, Golden Dawn's popularity has soared during Greece's last six consecutive years of recession. The party is now the fastest growing party in Greece.
Recent opinion polls show support for Golden Dawn has risen to around 12 percent since winning nearly 7 percent of the vote in general elections last year.
The far-right party has been known to openly espouse Nazism and Hitler's ideology, while its logo, the "meander", bears a strong resemblance to the swastika in colour and design.
"[The accusers] are miserable and wretched not only because of their brazen lies and slander but because they are exploiting a tragic event for politicking, to win votes and to divide Greek society," the party said in a statement.