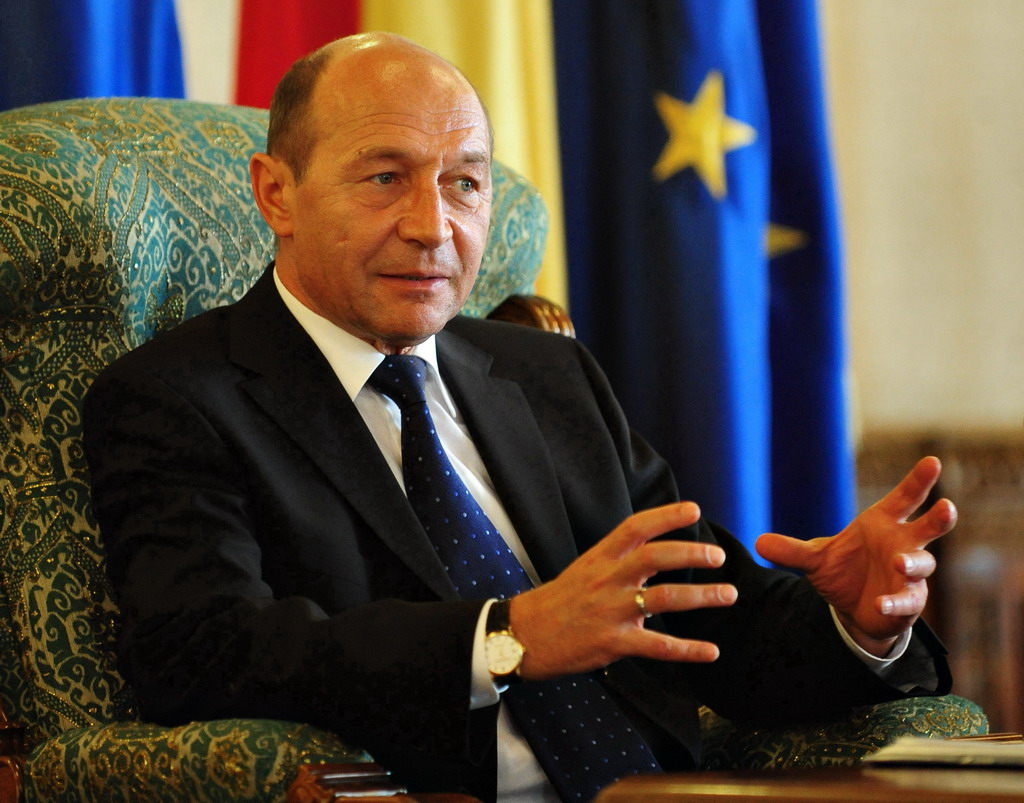 By Daniel Stroe – Bucharest
The Romanian President Traian Basescu today warned he is considering putting an end to the political cohabitation pact he signed with PM Victor Ponta after the latter intervened to dismiss an anti-corruption prosecutor investigating the deputy-PM for rigging votes in last year's referendum for removing Basescu from power.
Basescu argued the independence of the Romanian justice has been seriously trampled on by Ponta's decision who last night called the prosecutor a "fan of Basescu" who dealt in creating only political files.
"This is simply an interference of the politics by ordering the prosecutor-general to do something" Basescu said in a debate hosted by daily Evenimentul Zilei, the following day the prosecutor was removed. "This very moment, by what they have done, Ponta, Nitu (Romania's prosecutor-general) and Cazanciuc (Justice Minister) have compromised Romania" Basescu underlined.
"I will analyze this and I will make a decision this afternoon, by all means the moist important point of our cohabitation pact – the independence of justice – has crumbled with Ponta's approval and this makes me consider denouncing the cohabitation pact and informing all the foreign partners to whom I guaranteed" the head of the country said.
Basescu's statements came the day after prosecutor Lucian Papici, head of the corruption fighting section of the National Anti-Corruption Department (DNA), was removed with no plausible explanation from his position, seven days after being re-confirmed by the country's prosecutor-general, Tiberiu Nitu.
Papici had just finished an investigation concerning Liviu Dragnea, the deputy-PM, accused of electoral fraud during last year's referendum for President Basescu's impeachment. Dragnea is accused he set up a network of transporting people to polling stations to make sure the referendum reaches the legal limit of turn-out so Basescu could be removed. The turn-out fell behind the threshold so the referendum was invalidated by the Constitutional Court.
Papici was also behind other files of corruption envisaging other heavy-weight politicians in Romania, such as Dan Voiculescu, the media tycoon recently sentenced to five years in prison, Adrian Nastase, the former social-democrat PM in 2000-2004, sentenced to two years of imprisonment last summer, and former senator Catalin Voicu, already in prison and the head of a large network of influence in the justice system.
Ponta's maneuvers are even more surprising since Romania's justice system is under strict scrutiny from the EU and the lack of progress has been a serious obstacle in the country's efforts to join the Schengen area. The next Cooperation and Verification Mechanism (CVM) report is due in December and is widely believed to be a turning point for Romania, and also Bulgaria's years-long attempt to join the borderless area.
But Basescu played down expectations to receive positive signals late this year. "This action will be underlined in red in the CVM report" he said, referring to the politically motivated dismissal of Papici.