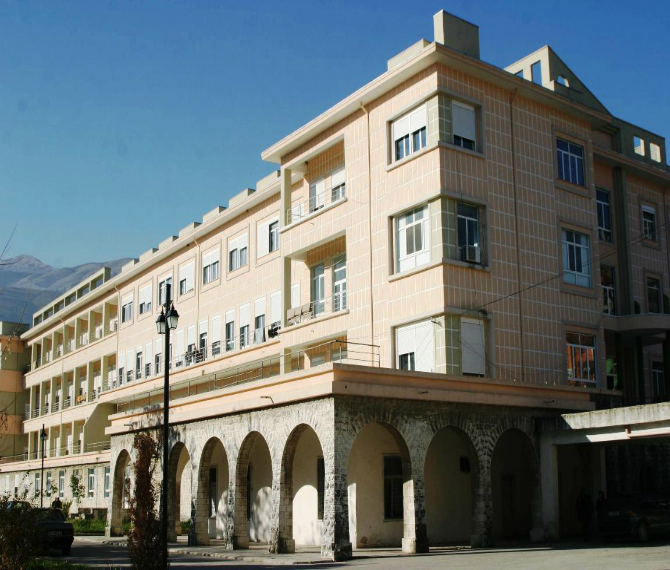 Tirana, 18 July 2016/Independent Balkan News Agency
By Edison Kurani
The first anthrax victim has been recorded in Albania.
The victim is a 56 year old from Libohova, a town in the south of Albania.
Local Public Health authorities confirmed on Monday that the 56 year old has died after being affected by the anthrax virus.
This virus is spread among farming animals.
There are suspicions that the victim may have been in direct contact with ill cattle or consumed food infected by the anthrax of these animals.
After it was seen that the victim was touched by anthrax, he was sent to the hospital of Gjirokaster (photo). But the virus had advanced and claimed his life.
Doctors of the Regional Hospital in Gjirokaster, said that the 56 year old had been affected on the skin and internal organs.
IBNA talked to Dr. Noris Doraci, doctor at the Public Health office in Gjirokaster. He issued details on the case:
"On Friday we identified a case of intestinal anthrax of a shepherd from Libohova. It was very late when the patient came to the hospital of Gjirokaster. He received the necessary treatment, but on Saturday he passed away".
Dr. Doraci says that after the Public Health Office was informed by the hospital, it has reached the place where the event occurred and disinfected the area. All the other persons, especially family members who had been in contact with the victim, were treated.
The death of the 56 year E.M came as a result of the fact that one of his sheep had not received a vaccine. The victim had slaughtered the sheep and he's suspected of having eaten a part of it raw, perhaps the spleen.
Shepherds and butchers, after slaughtering animals, eat parts such as the spleen raw.
This is also suspected to have happened with the 56 year old, who was rapidly infected by the anthrax until he died.
Anthrax is known to be an infective disease that affects animals and human. Among animals it develops in the form of septicemia, while among people it emerges in a localized form of pustule maligna.
Dr. Doraci offers a simple advice for all citizens: "All of the population must buy its meat from places where this product is guaranteed and where animals receive vaccines".
Fear from anthrax has affected the entire country. A few days ago, ministry of Agriculture warned the spreading of the virus in different areas of Albania. It called for measures to be taken.
A day ago, authorities shut down the largest cattle market in Milot from the fear of anthrax.
Earlier, ministry of Agriculture ordered the blocking of the import of cattle from several countries of the region such as Turkey, FYROM, Serbia, Bulgaria, Greece. /balkaneu.com/