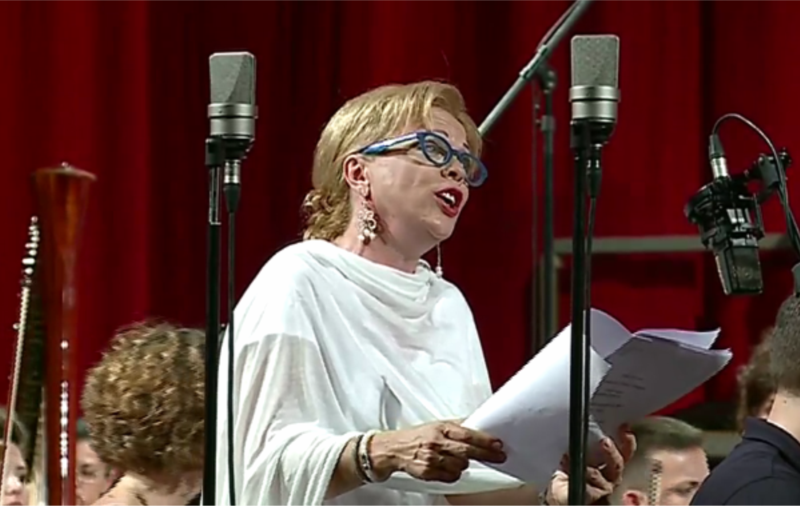 Tirana, 21 July 2015/Independent Balkan News Agency
Albanian world famous soprano, Inva Mula is preparing along with composer Lorenc Antoni an anthem for the Albanian Nobel Prize Winner for peace, Mother Teresa.
The anthem contains the name of her poem "Farewell", that Gonxhe Bojaxhi wrote during her journey from Ireland to Calcutta, India.
This incentive was launched last December in Skopje, during the symposium on the occasion of the 100th anniversary of Dom Zef Rama, baptizer of Gonxhe Bojaxhi.
Notable journalist Diana Toska had the idea of using the poem written by Mother Teresa herself, as a blessing song for the entire humanity.
The melody for this anthem was created by her cousin, Lorenc Antoni, upon the request of Dom Lush Gjergji, a little before the latter passed away.
The National Theater of Opera and Ballet of Albania started to record the melody of the Mother Teresa anthem.
The symphony orchestra in Albania was joined by musicians from the philharmonic orchestra of Kosovo and its choir and other musicians and artists from FYROM.
Lorenc Antoni's piece was orchestrated and played on the piano by Genc Tukici, while soprano Inva Mula interpreted the anthem in front of everyone.
Organizers are thinking to make the Mother Teresa anthem public on 5 September, on the World Charity Day.
That day, numerous manifestations are expected to take place on Mother Teresa square in Pristina with the participation of thousands of people from the region.
The authors say that Mother Teresa conveys powerful universal, religious and national messages, that inspire the young people to continue Mother Teresa's path of charity.
The anthem was composed a year before the Vatican sanctifies Mother Teresa in 2016. In the meantime, foundations have been laid in Pristina for the construction of Mother Teresa's home.
Authors believe that the song for Mother Teresa can be used everywhere in the world, in every activity dedicated to her. /ibna/