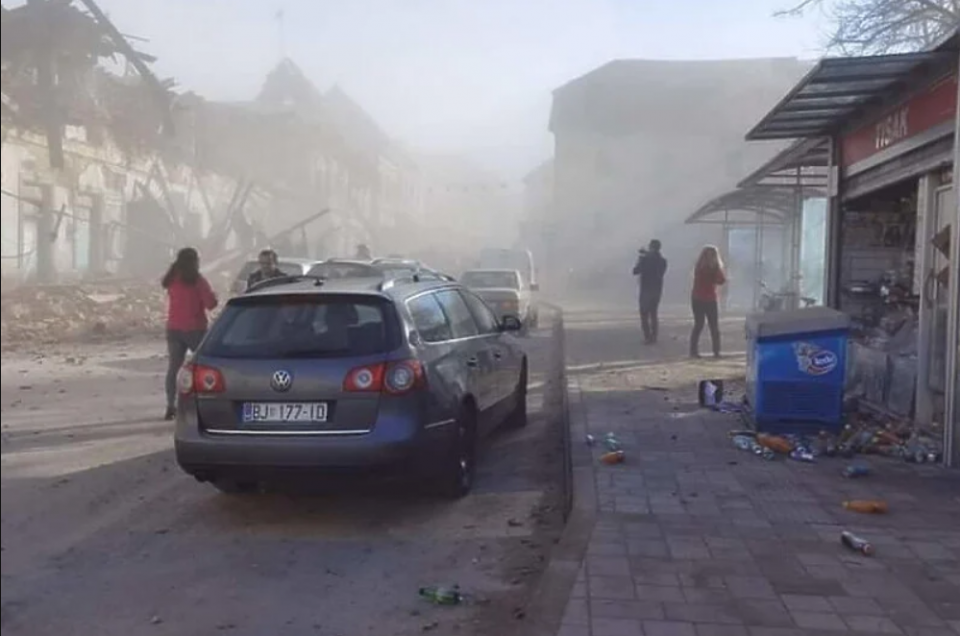 An earthquake 6.3 magnitude on the Richter scale hit Croatia at 12.20 pm on Tuesday, the European-Mediterranean Seismological Centre reported. The epicentre of the quake was nine kilometres southwest of the town of Sisak in the town of Petrinja, which was struck by a 5.0 magnitude earthquake early Monday morning. The latest quake was recorded 46 kilometres southeast of the capital Zagreb and could be felt across the country, but also in Bosnia and Herzegovina and Slovenia. The seismological devices registered the quake in Czech Republic, Germany, Hungary, Italy, Montenegro, Romania, Slovakia, Serbia and Austria.
The nearest cities of Sisak and Petrinja suffered large damage, yet once again there were no reports of casualties. According to first reports, many buildings collapsed in these cities, while in Sisak half of the sports hall has allegedly been demolished. "We managed to get one child out; he was in the car, everything collapsed. The owner is inside, but he is not answering," a young man in Petrinja told N1 , where the house walls fell on the car. "It's hard, I heard that the kindergarten collapsed; there were no children inside, we don't know if there are any casualties," another citizen says.
Petrinja Mayor Darinko Dumbović has called for immediate emergency aid, saying that half the town has been destroyed.
"We are dragging people out of cars. We do not know if there have been any casualties. I have heard that the kindergarten has collapsed but luckily there were no children inside," said Dumbović.
"The people are panicking as they are looking for their loved ones," he added.
The HRT Public Service stated that the centre of Petrinja does not exist at all in its previous form. In several cases, people who worked to repair the damage on the roofs caused by the previous quake fell on the ground. Citizens are still in panic and all urgent services are on standby. The Croatian Army has been dispatched to Sisak and Petrinja to help citizens.
Seismologist Krešimir Kuk stated that he believes this is the main earthquake and subsequent tremors will follow.
He added that it cannot be argued with certainty that there will be no stronger shocks; however, in any case, much stronger earthquakes cannot happen in that area. "In principle, this is as bad as it can get. We can't say that we cannot expect an earthquake of this strength. We can say, however, that there weaker earthquakes are more probable, without completely ruling out another one like of this magnitude," Kuk explained. /ibna