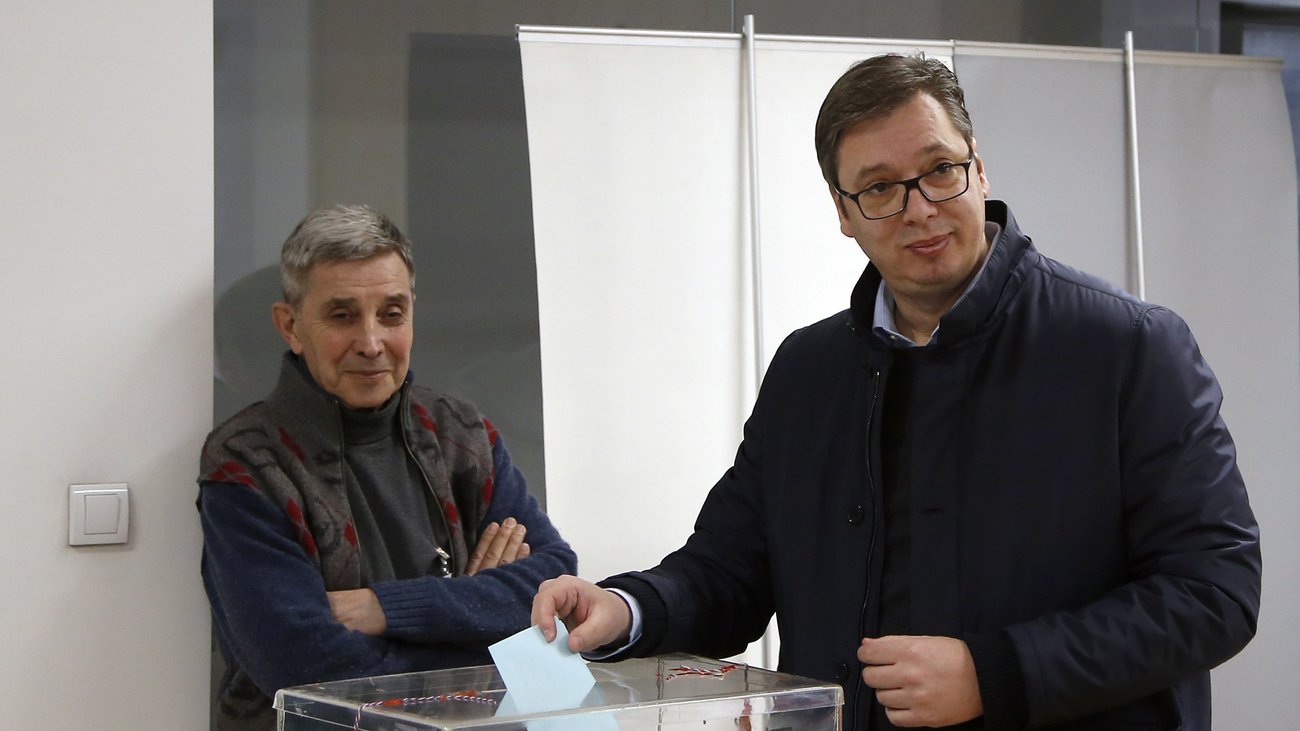 The freshest official data confirmed the triumph of the Serbian Progressive Party (SNS) on Sunday's local elections which included voting in Belgrade. SNS, led by Serbian president Aleksandar Vucic, got 45.60 percent of the votes in Belgrade; the coalition headed by former mayor Dragan Djilas scored second with 18.71 percent. SNS also won elections in Sevojno (62.15 percent), Arandjelovac (56.64) and Bor (58.52).
In Belgrade, several opposition groups have not succeeded to cross the five percent threshold, including the Democratic Party (DS), which led the movement that has overthrown the authoritarian regime of former president Slobodan Milosevic back in 2000; DS was the ruling party in Serbia from 2000 to 2004, and from 2008 to 2012.
SNS and the Socialist Party of Serbia (SPS) have announced that they would continue to rule in the capital city. SPS, led by foreign minister Ivica Dacic, got the fourth place with 6.35 percent of the votes. The biggest surprise in Belgrade elections was the group whose leader is the president of the New Belgrade municipality, Aleksandar Sapic; that group scored third with 8.27 percent of the votes.
SNS, after winning the presidential and parliamentary elections in 2012, did not loose any single poll at any level so far. Inter alia, they won the general elections in 2014 and 2016, Belgrade elections of 2014, all elections in the autonomous provinces of Kosovo and Vojvodina and the presidential polls in 2017, after which Vucic succeeded SNS's founder Tomislav Nikolic in the position of the head of state. From 2014 to 2017, he was prime minister. In each elections, Vucic was SNS's main "offer" for the voters. Although he is certainly not going to participate in local governments in Belgrade, Sevojno, Arandjelovac and Bor, Vucic's image and appearance dominated the SNS campaign.
"These elections have shown the democratic face of our country, despite all threats and pressures of many who wanted to undermine that process", Vucic said at the press conference of his party on Sunday evening. Vucic "congratulated" his political rivals because "they achieved less when compared to what they had in 2017".
Political analysts tried to explain the electoral déjà vu in Serbia. According to Zoran Panovic, a journalist with daily Danas, Vucic led his campaign frenetically.
"The government has developed a serious system; in some way, Vucic has been conducting a campaign as a frenetic opposition leader having all government resources on his side. At the same time, the opposition refuses to become more serious and to reduce the number of parties and organizations to an appropriate level", Panovic said underlining that the opposition in Serbia is too fragmented.
Nonetheless, Panovic believes that the opposition's 'fiasco' in the Belgrade elections could be "the chance for its organisational strengthening".
"There is a serious conflict in this society and it is going to be continued", Panovic said adding that the enormous gap between the electoral results of SNS and all other parties "does not represent the real situation in Serbia".
When asked whether he expects that Dragan Djilas, former DS leader who currently does not belong to any party, would join some of the existing groups or rather create his own, Panovic said that the latter option would mean a "catastrophe".
In Belgrade elections, Djilas was supported by the Serbian Left, "Sloga" trade union, the Movement of Free Citizens, and the Popular Party, led by former Foreign minister and ex-president of the United Nations General Assembly Vuk Jeremic.
Bojan Klacar, from the Center for free elections and democracy (CeSid) told N1 television that Djilas "will have serious political ambitions". "He has two options – to make his own party, which costs a lot, or to join some of the existing platforms in which they (opposition leaders) may find some modus operandi", Klacar said.
According to political analyst Djordje Vukadinovic, elections were "irregular, with many fake lists and fake voters".
At the ballot papers in Belgrade 24 lists of candidates were offered; some of them have been created ad hoc and had names very similar to ones of some opposition groups. Vukadinovic said that "uniting (with each other) is the only way for the opposition"…/IBNA