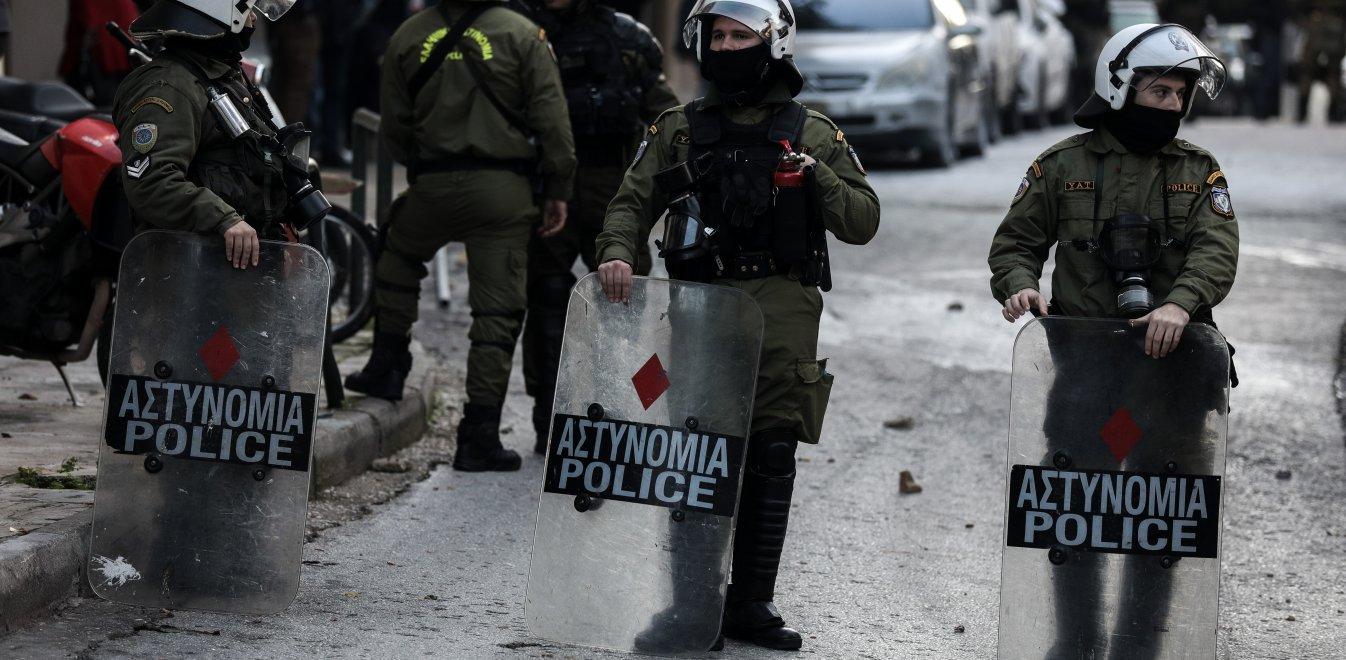 Cases of police arbitration are being recorded one after the other in Athens, with the tension becoming… decentralized. Meanwhile, the decision by the Mitsotakis government to apply restrictions on the right to protest, march and rally is expected to spark strong reactions.
Following reports and revelations of citizens forced to strip by special police forces, the assault and arrest of a well-known director and his two sons on the rooftop of his home next door to an occupied building, on Sunday tear gas was thrown at a Christmas market.
The events unfolded in Maroussi, a northern suburb of Athens, on Sunday. On the occasion of the evacuation of an occupation in the area, an antifa group of about 150 people took to the streets. Indeed, as the president of the Marousi traders association points out, their protest was peaceful, without affecting the market. However, police groups clashed using tear gas and chasing, as thousands of citizens, mainly families, were out for their Christmas shopping.
At the same time, the revelation that came to light by the Documento newspaper has caused outrage. According to the related video, officers from the Omonia Department, in the heart of Athens on October 18, are seen throwing to the street and wetting with a hose a disabled woman. Afterwards, they go on to arrest a lawyer who complained about this behavior. The revelation was officially confirmed by the Greek Police, noting that the police officers involved were arrested in the context of a flagrante delicto crime and a case was formed against them. The question remains, however, why the incident was not made public and whether the police officers were eventually fined or whether they are still on the force.
The fight against lawlessness has been one of the central pre-election commitments of New Democracy, with special focus on the neighborhood of Exarchia. However, almost six months after Kyriakos Mitsotakis assumed power, police clashes with anarchist groups have spread all over Athens. It is rather concerning the fact that the victims of police violence are not the so-called "looters" but … randoms, even peaceful citizens such as director D. Indares.
The main opposition has launched a scathing attack against Minister of Citizen Protection Michalis Chrisochoidis and the Prime Minister for providing political cover to arbitrary behavior demonstrated by the Police. In an interview on ANT1, Alexis Tsipras stressed that the Government is turning the concept of security into insecurity, legality and stability into "terror and shut down", which, he said, paves the way for a "Far West" situation.
SYRIZA's leader accused the policy of "authoritarianism" of being ineffective, noting that "to feel safe means that I can go to the market in Marousi and not feel afraid as if I am in Gaza". "Security is not a conservative concept. Security is very important for our democracy", he stressed, condemning the authoritarianism shown by the Government. /ibna