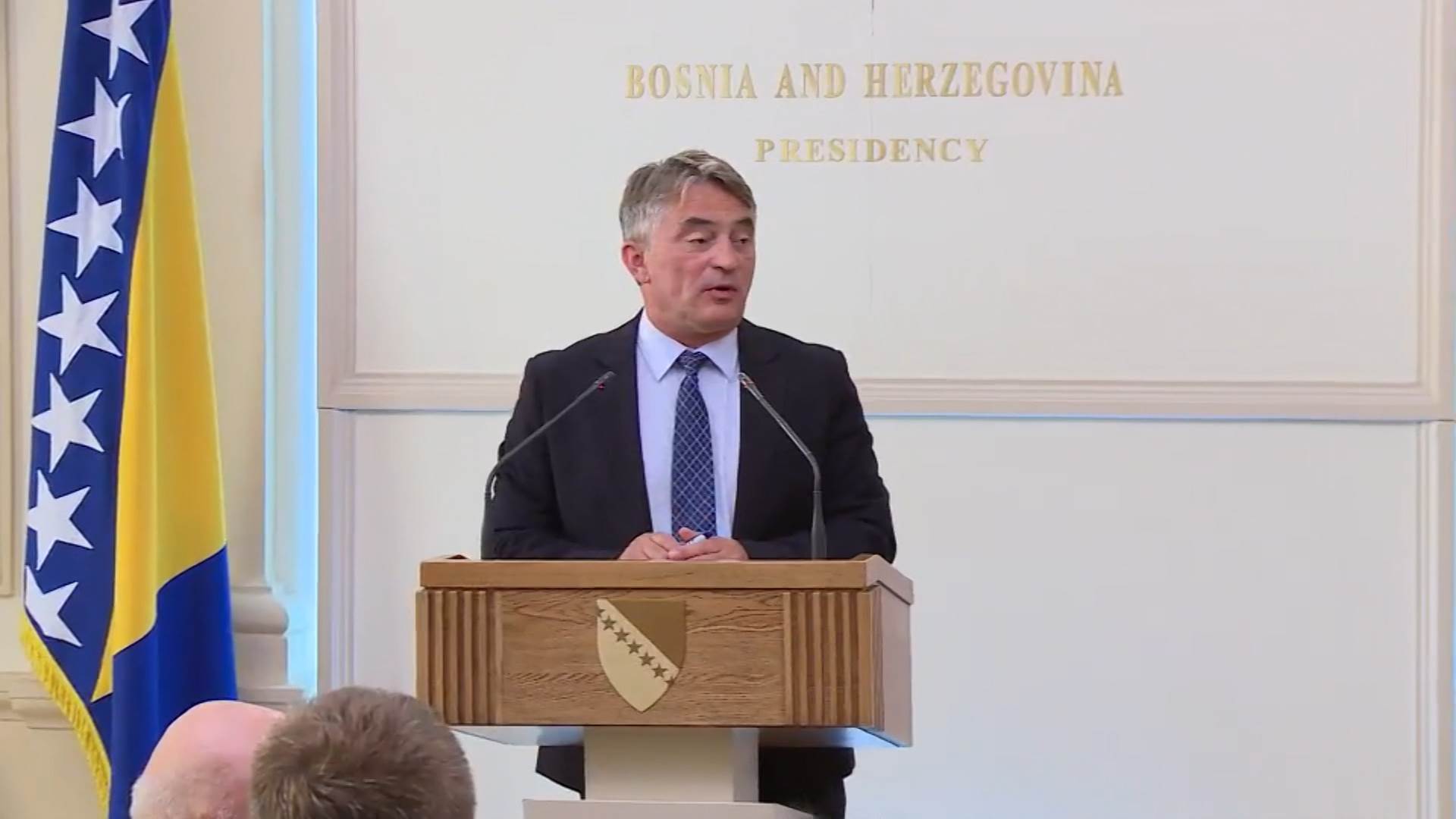 BiH Presidency members Željko Komšić, Milorad Dodik and Šefik Džaferović have agreed to cancel both sessions scheduled for today. Members of tripartite highest political institution in the state were supposed to vote on the Annual National Programme /ANP/ and candidate for BiH Council of Ministers chair.
At the press conference, after the agreement on the cancelation, Presidency Chairman, Željko Komšić, said that it was agreed at the consultations ahead of the sessions, noting that the decision to cancel the session was reached easily, without a discussion.
"Fifteen minutes before it actually happened, we knew which direction we were going to. There was no need for drama and tension", Komšić said, adding that everyone was trying "to keep the door open for a new agreement".
Komšić stressed that he and Džaferović did not want to vote against the appointment of Zoran Tegeltija as Chairman of the BiH Council of Ministers, and did not want to outvote Dodik concerning the ANP issues either.
Outvoting Dodik, the Serb Presidency member, regarding the disputable ANP for NATO would further block the government formation while voting against the prime minister-designate, the candidate of Dodik's SNSD, would leave him out of the game, added Komšić, who represents Croats in the Presidency.
"We all know it is not a matter of whether the Presidency should discuss this technical document or not, but we have to because it depends on it whether Bosnia and Herzegovina will continue its road to NATO or not, if it will give up on it, make a pause or take a step backwards", Komšić underlined.
The Serb member of the BiH Presidency Milorad Dodik said after the consultations with other Presidency members that BiH is entering a new stalemate and reiterated that he would not vote for the Annual National Plan /ANP/ for NATO.
Dodik has confirmed that the ANP was removed from the agenda of Tuesday's meeting. After such a decision, as he said, it was pointless to hold an extraordinary meeting of the Presidency dedicated to a candidate for Chairman of the BiH Council of Ministers, once again stressing the need to form a new Council of Ministers as soon as possible.
The leaders of the three strongest nationalist parties in BiH (Bosniak SDA, Serb SNSD and Croatian HDZ) signed earlier this month an agreement that stipulates the principles to form the government. The statements they gave in the following days however, showed that the deal was not likely to be implemented within 30 days, as agreed.
Dodik demanded a session of the Presidency to appoint a new Council of Ministers Chairman, but Komšić, who is the current Presidency Chairman, scheduled a second session for the same day to discuss the matter of ANP.
That is why this Tuesday was named as the "D-day for BiH future", but now it is obvious that it will be remembered as another missed opportunity./ibna