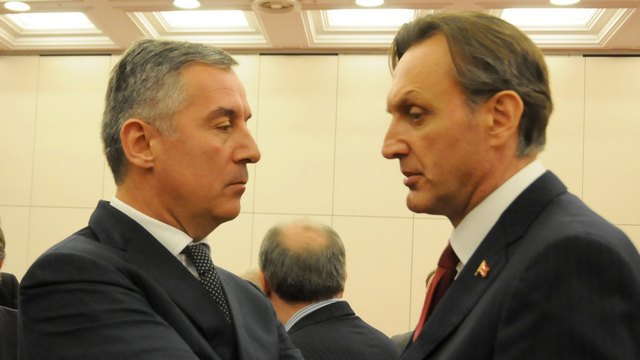 By Adnan Prekic – Podgorica
Two months after the municipal elections it becomes clearer that the ruling coalition at the national level between the Democratic Socialist Party and the Social Democratic Party has lived its final days. The smaller coalition member the Social Democratic Party has already generally agreed on the composition of the new government in the capital Podgorica with the rest of the opposition. This situation is interpreted as an introduction to breaking of the coalition at the state level, which is functioning since 1997.
Although differences between the two ruling parties in the coalition are becoming bigger and bigger for many years, after the local elections it was expected the two parties would leave their differences aside and make a new coalition agreement.
Following the public elections, in which the Democratic Party of Socialists (DPS) won the majority of the votes and the Social Democratic Party (SDP) in coalition with other parties took less than 10% of the vote, it seemed that a deal was quck to follow.
Talks between the two parties continued for months and SDP insisted on a nonpartisan mayor, which for the big coalition partner was unacceptable. After that, the SDP turned to the rest of opposition demanding minority support for the exercise of power. The rest of the opposition accepted the SDP offer despite the fact that this party won the lowest number of votes in the capital. Their only goal was the removal of the DPS so this coalition for them was acceptable.
In accordance with arrangements of forming a minority government in Podgorica, which are generally harmonized by representatives of the Social Democratic Party, Positive Montenegro, Democratic Front and the Socialist People's Party, the Mayor of the Capital City will be a non-political person. Instead of a party membership, the plan for the future is that the leader of elected institution be professional.
However, a crucial part of the new agreement relates to the revision of all previous activities of the former local administration in Podgorica, which was under the control of DPS. The political parties that will form a new government seriously suspect that in the past there was a lot of criminal activity, which must be checked. The new authorities will receive a mandate and their mission will be to provide the conditions for new fair and democratic elections.
The coalition agrrement between SDP and the opposition, including the minority government in Podgorica where a third of the population of Montenegreans lives, signaled the end of the coalition between the two ruling parties. This means the announcement of elections at state level which would normaly be held in late 2016. These latest developments indicate that the current government is unlikely to exhaust its term with early parliamentary elections being the most likely scenario.