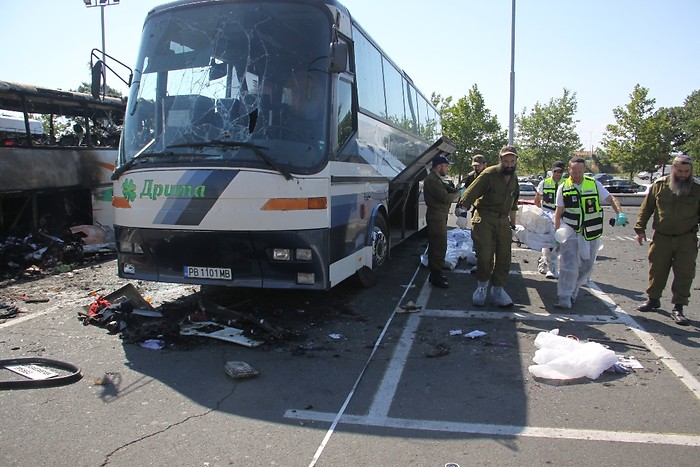 By Clive Leviev-Sawyer of The Sofia Globe
Bulgarian Interior Minister Tsvetlin Yovchev, speaking on the July 18 2013 first anniversary of the terrorist attack at Bourgas Airport that caused the deaths of five Israelis and a Bulgarian, said that there were "clear traces" showing that Hezbollah was behind the attack.
In early 2013, Bulgaria had announced that its investigation, in which there was international co-operation, had established links between the terrorist attack and the military wing of the Lebanon-based Hezbollah.
Soon after the July 2012 attack, Israel blamed Hezbollah, citing its own intelligence sources, and in turn soon after that there were reports that United States intelligence services had reached a similar conclusion.
Bulgaria, however, was extremely cautious about pointing fingers, doing so only after a number of months of the investigation that it led.
A year on from the attack, the identity of the bearer of the bomb is still not known and the two accomplices identified, Lebanese residents but holders, respectively, of Australian and Canadian passports, have not been taken into custody.
Speaking a few hours before a planned commemorative event at Bourgas Airport in which a number of Bulgarian and Israeli VIPs were scheduled to take part, Yovchev said that Bulgaria had information received through international channels of exchange to confirm the conclusions made so far.
The current Bulgarian Socialist Party government, in office since May, recently repeatedly has underlined that its position on the Hezbollah link has not changed, with Foreign Minister Kristian Vigenin repudiating early media reports which alleged that it had.
On July 18 2013, EU experts were to hold their latest meeting to discuss whether the 28-member bloc should declare Hezbollah a terrorist organisation. The issue also will be discussed by EU foreign ministers on July 22.
Yovchev, meanwhile, told reporters that the fact that a year later the identity of the bearer of the bomb, which was used against a busload of Israeli tourists at the airport, was still not known was evidence of how "professionally" the attackers had prepared and perpetrated the attack.
"These are people who were well-prepared, covered and carried out systematic actions to conceal their identities, leaving no trace about where they came from and where they visited, covering any links between them," he said.
"Their professionalism was at a level which any special service would feel envious," Yovchev said.