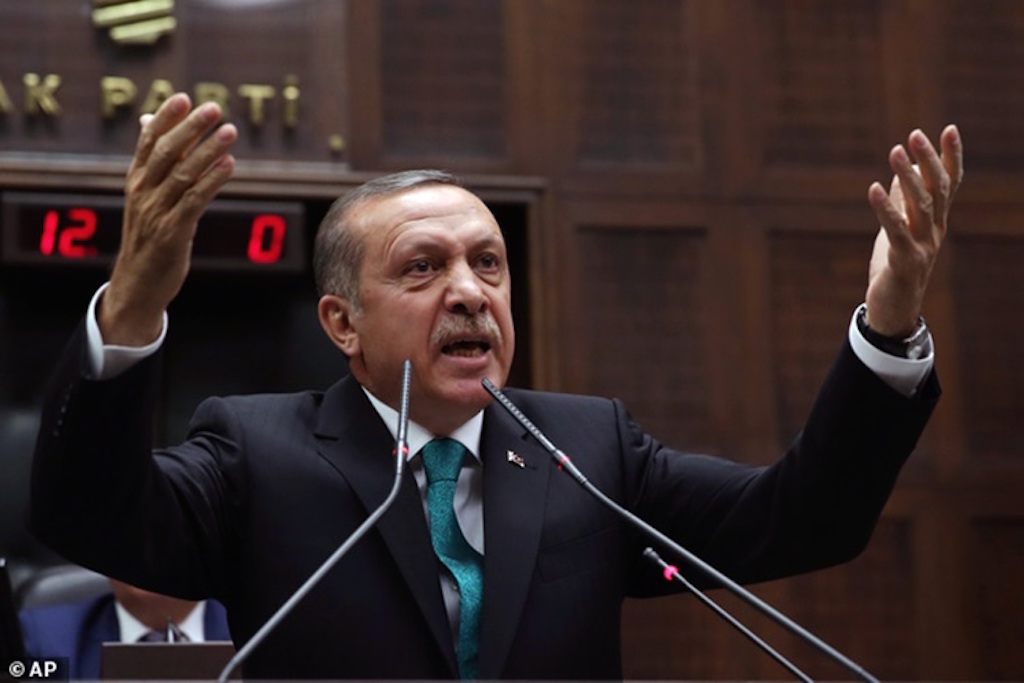 Turkey has the jitters over the situation in Afrin, Syria and the country's military operation there. The Turkish president Recep Tayyip Erdogan gives consecutive speeches where he talks even of a WWIII.
In particular, on Wednesday evening, speaking to doctors he said that "The U.S. are building 20 (military) bases in Syria, something that is against Russia and could be the reason that would cause the break of WWIII. The question is why do they need bases in Syria, where Russia and Iran forces already exist?", however without judging the military presence of the two countries in Syria.
Ankara has high expectations that Turkey will take over Afrin soon, something which would reinforce the political position of the Turkish president.
The Turkish Foreign Affairs minister, Mevlut Cavusoglu postponed his trip to Washington due to the change of the State Department Secretary. But he noted that he hopes in building strong ties with the new American Secretary of the Department of State, Mike Pompeo.
According to the Turkish politician, Pompeo "will have to respect Turkey after the escalation in their bilateral relations connected with Ankara's policy in Syria and other issues."
"Do not get obsessed about the moment we will leave Afrin. We will move out once our job is done", Erdogan stated, addressing the European Parliament which passed a resolution through which it condemns the Turkish operation in Afrin.
Speaking to associations of self-employed traders, Turkey's head told them that while the European Parliament is asking or will ask that Turkey ends its Afrin operation, his country turns a blind eye to the former's demands.
EU Affairs minister Ömer Çelik said that the European Parliament's resolution is without a vision and knowledge, it causes surprise and shows how far from what is happening in Syria they (its members) are.
The 8 Turkish military officers and the night of the attempted coup
Meanwhile, the Turkish Media have published pictures where they claim the 8 Turkish soldiers who fled to Greece after the attempted coup are seen holding arms.
They can be seen in a video, published by the state-run Anadolu news agency, on the night of July 15, 2016 carrying guns in the corridors of their base in Istanbul. What Turkish Media say is that these shots prove they did not participate in rescue operations of injured people as they had claimed. This is why the extradition claim will be re-examined.
The video also shows a security forces' operation inside the camp after the failed coup.
The footage was published a day before Turkey would re-examine the extradition case of the 8 men for a third time. Two months ago, the Greek Justice minister received by his Turkish counterpart who visited him in Athens new relevant evidence.
Ankara wants the 8 extradited believing in their involvement in the coup and claiming they have close ties with FETO, Gulen's movement that Turkey considers a terrorist organisation.
The Greek High Court however, has made an unappealable decision dictating they should not be extradited to Turkey as there are fears of an unfair trial and torture…./ IBNA