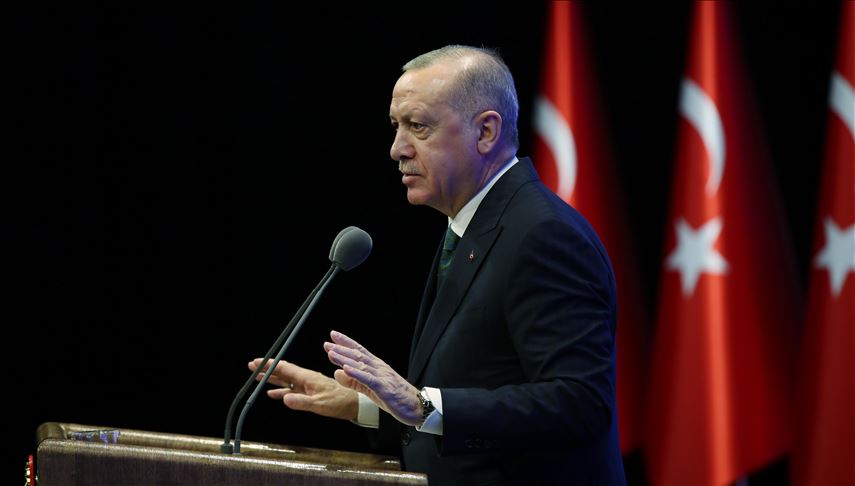 Cavusoglu speaks of "islands the sovereignty of which has not been established"
A few days before his departure for the Berlin Summit on Libya, Recep Tayyip Erdogan announced that Turkey, taking advantage of the maritime designation agreement it has signed with Tripoli, would be conducting researches and drilling operations in the areas it claims to be found within its Continental Shelf.
"Already in 2020, we are accelerating the process, and once the land has been allotted and the procedures are completed, we will begin the exploration and drilling in these areas. Oruc Reis will conduct seismic researches there", Erdogan said.
Speaking from the Presidential Palace in Ankara, the Turkish President also sent his own message on the East Med gas pipeline that Greece, Cyprus and Israel want to build.
"With Libya, we have signed the MoU demarcating maritime areas of responsibility. In the areas between the coasts of Turkey and Libya, from a legal point of view, no research or drilling can take place without the approval of the two countries", Erdogan claimed. The statement by the Turkish president is striking, as he believes that nothing will change in Berlin and that the agreement with the Tripoli government will remain. Meanwhile, he set up a timetable but also revealed the vessel that would be shipped to the area south of Kastelorizo ​​and east of Crete.
Erdogan: "We are sending an army to Libya"
He also announced that Ankara would be sending troops to Libya. "In order for the legitimate government to stay in power and bring stability to the country, we are sending our army".
However, Turkey's Defense Minister Hulusi Akar said that "in the context of the memorandum with Libya, we have some personnel over there, the number of which constantly changes. They train, an exchange of know-how takes place. They also have an advisory role. It is a military cooperation on an educational and a technocratic level".
Cavusoglu opens a gray zone issue
Against this backdrop, Turkish Foreign Minister Mevlut Cavusoglu in a televised interview on CNN Turk TV reiterated the theory of "gray zones" and islands the sovereignty of which has not been established.
"There are some islands for which it has not been established to whom their sovereignty belongs. Neither the Lausanne Treaty nor the 1948 Peace Treaty has specified who they belong to. We justifiably say they belong to us; they argue the same thing about themselves. That is why we make exploratory contacts to resolve these issues. So that we do not get another Kardak ('Imia')'", Cavusoglu said.
Three days ago, Republican People's Party (CHP) President Kemal Kilicdaroglu had claimed that there were islands in the Aegean "which are militarized illegally, as are other Turkish islands illegally occupied by Greece".
Cavusoglu, after arguing that East Med was neither realistic nor viable, said that "if we agree that it would have to go through us or Cyprus, then they must get our permission for the pipeline to pass", the Turkish Foreign Minister said.
In a similar vein, Turkey's Energy Minister Fatih Donmez in an interview with Anatolia agency announced land concessions in the Eastern Mediterranean. "On our agreement with Libya, there is a procedure for approving the announcement of the agreement at the UN. Once this process is complete, we will begin to allocate the land in our area.
Turkey has the largest coastline in the Eastern Mediterranean. It makes no sense for them to narrow our space by claiming the presence of some islands", Donmez argued.
Hurriyet columnist: "The EU's weakness strengthened Turkey and Russia in Libya"
"In Libya, it was Russia's cooperation with Turkey that preceded. The EU's failure to play any role in this crisis is the result of its inadequate management. The EU countries have not overcome their different views and conflicts of interest and as a result they cannot formulate a common strategy. The crisis in Libya is the latest example of this situation", leading analyst from the daily "Hurriyet" newspaper Sedat Ergin penned in his column. /ibna