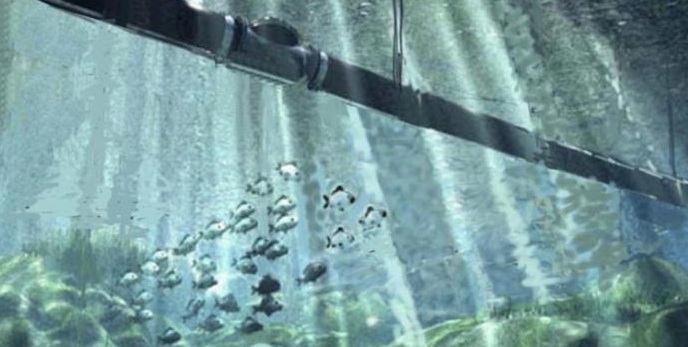 By Manolis Kostidis – Ankara
The construction of pipes that will connect the subsea water pipeline Turkey plans to complete towards northern Cyprus is rapidly progressing.
74 pct of each piece of the pipeline is ready and in the following months they will be put together. The pipeline has a 1.6 m diameter and its length reaches 500 meters. Each piece of the pipeline weighs 150 tons.
The undersea water pipeline between Turkey and "Turkish Republic of Northern Cyprus" will have a length 80 km and will transfer 75 million cubic meters of water from the dam in the Anamour area of Turkey to another dam being constructed in northern Cyprus.
The project has a minimum lifetime of 110 years. In its full length sensors will be placed to detect damage and leaks.
50.3 pct of the water will be used for drinking and 49.7 pct for irrigation. The pipeline will be constructed with a special technique that will allow it to transfer water via hangers at a 250 meter depth as opposed to the bottom of the sea.
The project is expected to be completed in 2014.
Meanwhile, Aksam newspaper reveals there will be developments in coming weeks on the Cyprus issue. According to the Turkish newspaper, in two weeks, the spokesman of Nikos Anastasiades on the Cyprus issue, Andreas Mavrogiannis, will visit Ankara. He will be the first high-ranking representative of the Government of Cyprus to visit the Turkish capital. Mavrogiannis, according to Aksam, will meet with Turkish Foreign Ministry Gen. Secretary Feridun Sinirlioglou. Ankara will request the Cyprus issue is resolved in 2014. Sinirlioglou will request a referendum on a new plan and will stress that in the event that said plan is approved, huge investment will be made in Cyprus.
Turkey, however, will threaten that "failure to resolve the Cyprus issue will mean Turkish Cypriots will determine their own course".
Aksam reports that at the same time Osman, Ertug, the representative of Turkish Cypriot leader Dervis Eroglu, will visit Athens.