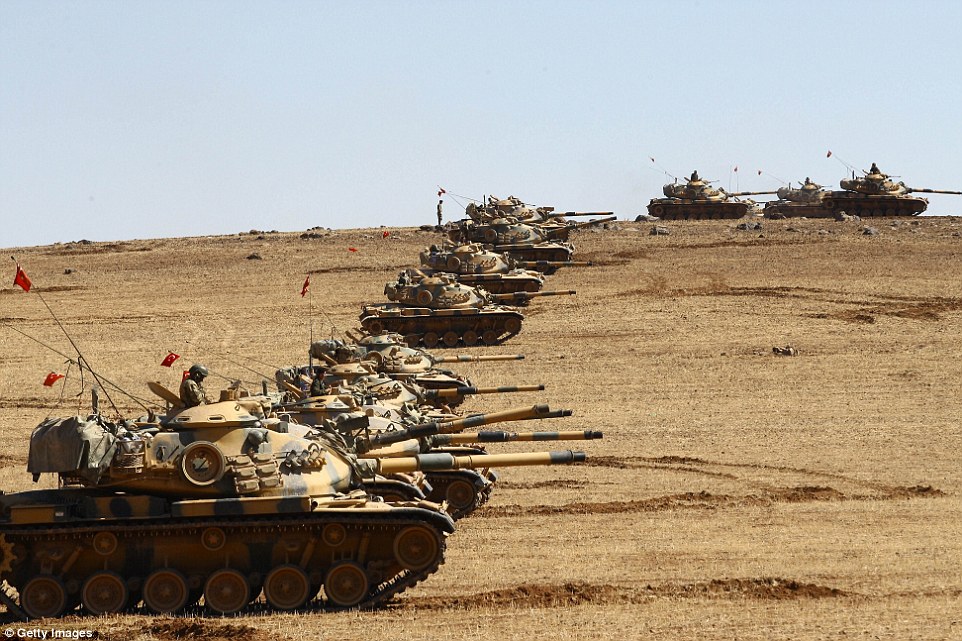 Athens, June 29, 2015/ Independent Balkan News Agency
By Manolis Kostidis
Using the jihadists as a pretext, Turkey aims to stop the Kurds
The attacks of the jihadists in Kobani, and the control of many cities in Syria from Kurds, have mobilized the Turkish government, which according to information that have leaked in Ankara is preparing to take the decision to intervene beyond its borders.
Turkish president Recep Tayyip Erdogan called an emergency meeting at the presidential palace with the relevant ministers and the Chief of the Turkish Armed Forces Necdet Ozel.
According to the newspaper Cumhuriyet, Turkey has started preparations for an invasion in Syria within a radius of a few kilometers, in order to create a buffer zone where the refugees will be accommodated.
The official position of Ankara is expected to be that the military operation will target the Islamic State, but political analysts believe that the aim of the Turkish government will be the Kurds who control most of northern Syria.
The forces of the Turkish Armed Forces have been put on standby but by Friday night no command had been sent for further preparations.
Erdogan has expressed his dissatisfaction with the military successes of the Kurdish forces and has made it clear that Turkey will never allow the establishment of a Kurdish state in Syria.
"Whatever price we pay, we will never allow the creation of a new state south of our borders, in northern Syria", said the Turkish President.
Ankara claims that the Kurds send away Turkmen who live in the area and change the demographics in the occupied areas.
The opposition in Turkey has on may occasion accused the government for supporting the jihadists.
"It is a great slander to accuse Turkey of having ties to any terrorist organization", Erdogan said.
Turkey fears the creation of a zone controlled by the PKK in northern Syria, as the generals argue that this possibility can inspire the Kurds living in Turkey to attempt to create an autonomous state, like those of Iraqi Kurdistan.