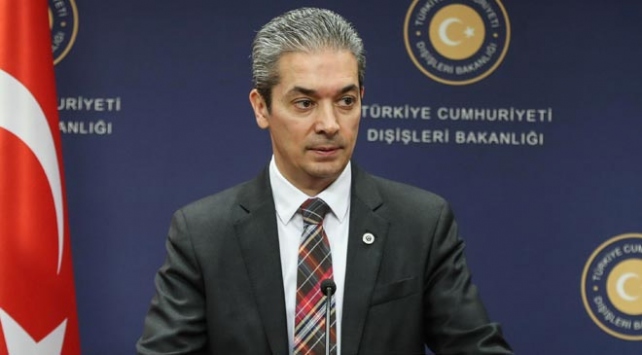 Turkey's Ministry of Foreign Affairs responded through a statement to the communication issued by Greece and Egypt, in which they decry Turkey's agreement with Libya to establish maritime jurisdiction areas. In the statement, Ankara claims that Kastellorizo ​​is not entitled to a continental shelf beyond its territorial waters!
The spokesman for the Turkish Ministry of Foreign Affairs Hami Aksoy stated that "with the agreement signed with Libya, a part of our western borders of maritime jurisdiction areas in the Eastern Mediterranean is delimited. The agreement is in accordance with international law, including the relevant articles of the United Nations Convention on the Law of the Sea, and in particular the court decisions that create the international jurisprudence".
In the statement, Aksoy argues that the coastal projection of Turkey, which holds the largest continental coast line across the Eastern Mediterranean, cannot be cut off from islands; the islands located "at the opposite side of the median line between two mainlands cannot create a maritime jurisdiction area, nor an Exclusive Economic Zone beyond their territorial waters".
The Turkish Ministry accuses Greece and the Republic of Cyprus of Maximalist positions, citing "for example, Kastelorizo, a small island immediately across the Turkish mainland is supposed to generate a maritime jurisdiction area of 4,000 times larger than its own surface. This understanding caused Egypt to lose 40,000 an area of square kilometers".
Aksoy concludes that Turkey and Libya through this agreement "have shown that they will not allow any fait accomplis in the region".
Turkey's Director General for Bilateral Political & Maritime-Aviation-Border Affairs Çağatay Erciyes tweeted that "the islands with minimal coastal lengths compared to Turkey's mainland; that are cutting off Turkey's coastal projection and Continental Shelf; and are located at the wrong side of the median line between the mainlands, should not generate a Continental shelf nor an Exclusive Economic Zone".
What Ankara achieves through this position is to recognize, apart from Kastelorizo, a smaller maritime zone of responsibility and jurisdiction area in both Rhodes and Crete. /ibna