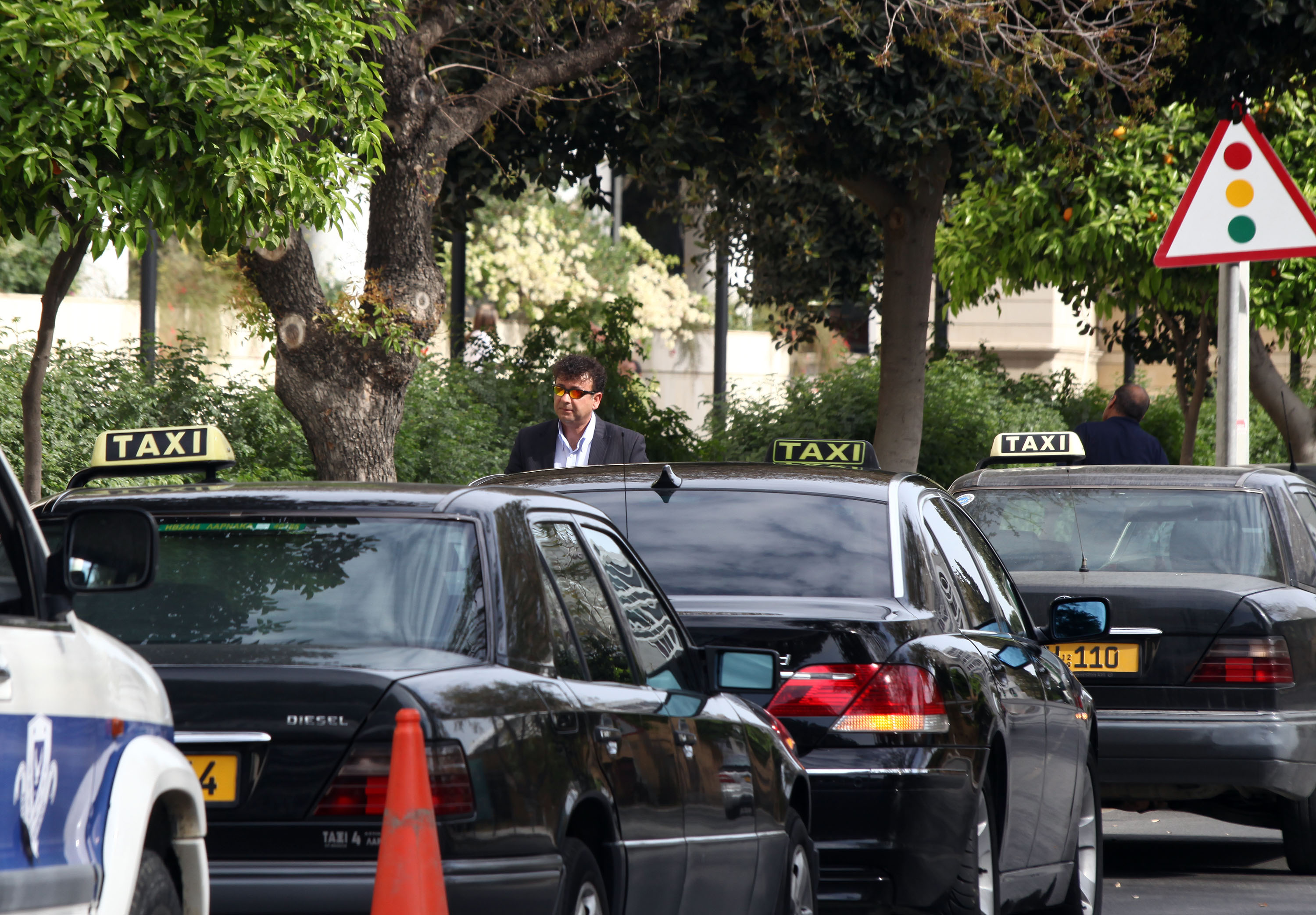 By Kyriacos Kyriacou-Nicosia
Taxi drivers blocked roads with their vehicles on Monday morning near the Finance Ministry building, causing traffic jam for over two hours, after failing to meet with Minister Harris Georgiades to discuss their demands. Their protesting outside the Finance Ministry had been pre-scheduled, but because of the Minister's unavailability, they decided to use their cars to block roads.
The angry drivers did not cause any serious incidences with the security forces, which were ordered to protect the ministry. The protesters, who belong to the urban taxi drivers' associations of Nicosia and Famagusta-Larnaca, have put forward a number of demands, which government does not take into serious consideration, according to them.
Driver's demands
These demands include: subsidised fuel, a reduce the number of licensed taxis and strict regulation over illegal taxi and bus services. They also demanded to be exempted from paying taxes on diesel, as fuel expenses account for as much as 45 per cent of their costs, said Akis Demosthenous, head of the Nicosia urban taxi drivers' association.
Demosthenous had previously stated that his profession was bracing for a 65-70 per cent drop in business for 2014 while the number of taxi drivers in his trade continues to rapidly climb.
Speaking on Sigma television channel, Demosthenous apologised for any inconvenience to the public yesterday, but added that the drivers' demands were just. "We're doing this for the survival of our families. We are not asking for charity," he said.
Conceding that cab fares are already high, Demosthenous said this was because the tariffs are set by the government.
Most of the people using buses, especially in coastal towns in the summertime, are foreigners anyway, he added.
Meanwhile unlicensed taxis, whom he dubbed "pirates", were making more money than those on the regulated side of the business.
"We know who these pirates are and we do report them to authorities. But when a case goes to court, the testimony of the customer is also needed. This never happens, because the customer, usually a tourist who's left the country anyway, never shows up, and the case is dismissed."
Later on the taxi drivers were informed that the Harris Georgiades is willing to meet them on Wednesday.
Demosthenous said he hoped that the meeting with the minister will result in a quick solution to their problems.