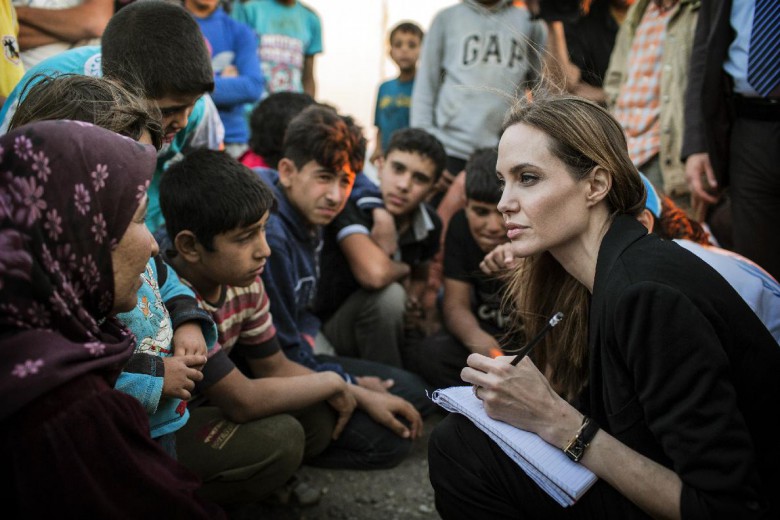 Athens, March 16, 2016/Independent Balkan News Agency
By Marina Spyropoulou
American actress and Special Envoy to the UN High Commissioner for Refugees (UNHCR) Angelina Jolie Pitt visited Greece on Wednesday to highlight the plight of people fleeing warzones, as some 45,000 refugees and migrants have been stranded in the country following the gradual sealing of borders along the Balkan Route to central Europe since mid- February.
The famous artist and human rights activist held a meeting with Greek Prime Minister Alexis Tsipras in Athens after visiting a reception center set up by Greek authorities in the capital and Piraeus port, where some 4,000 people are temporarily accommodated in the passenger terminals.
During the tour she was briefed on the assistance offered by the Greek state and NGOs and expressed her sympathy to families of refugees with children, the Greek national news agency reported.
Greek and foreign officials and humanitarian organizations have acknowledged the tragic conditions in particular in Idomeni near the border crossing between Greece and the Former Yugoslav Republic of Macedonia (FYROM) where about 14,000 refugees are living in a muddy makeshift tent city with inadequate food and medicines in the hope that the borders may reopen soon.
"I am here to reinforce efforts by UNHCR and the Greek government to step up the emergency response to the deteriorating humanitarian situation," Jolie Pitt said, according to a UNHCR press release.
During her first visit to the country on behalf of UN High Commissioner for Refugees, Filippo Grandi, she reiterated UNHCR's support to Greece in the expansion and coordination of protection and assistance to refugees, the strengthening of registration and asylum procedures, and the implementation of the EU relocation program, according to the press statement.
The UNHCR Special Envoy also expressed her appreciation for the support and solidarity Greece has shown the hundreds of thousands of refugees and asylum seekers who have landed on its shores from Turkey.
More than one million people have crossed the Aegean Sea since the start of 2015, according to the latest UNHCR data.
Several Hollywood stars, as well as officials, have visited Greece over the past year to review the situation, appealing to governments and people to help put an end to wars and support people fleeing war zones.
Susan Sarandon paid a visit to Lesvos a few months ago and is among the nominees for the 2016 Nobel Peace Prize for aiding refugees.