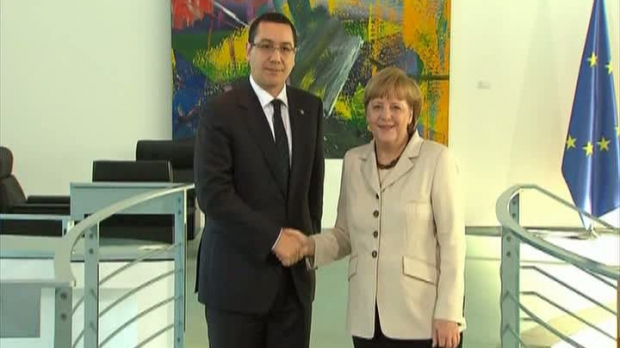 By Daniel Stroe – Bucharest
The German chancellor Angela Merkel told visiting Romanian PM Victor Ponta the bilateral economic relations have potential for increase, but underlined German investors expect that Romania respects the rule of law standards, ensure juridical safety and transparency and fight corruption in a stronger manner.
The Romanian head of government wraps up today a two day official visit to Germany which featured meetings with local businessman and officials. Ponta will today meet the management of the Daimler company which has just announced a 300 M Euros investment in Romania.
"We have discussed about political and economic relations which are characterized by friendship, we have many cooperations in the economic sector, we are Romania's most important commercial partner, but there is potential for further development of these relations" Merkel said in the joint press conference with her guest.
But Merkel warned this comes at a cost. "I want Romania's economic construction to be successful, we ant to be a partner. But for the German economy it is important rules of law standards are observed, there is a juridical safety and transparency and corruption is fought" she added.
Merkel's words have been largely reflected by the German media which underlined Merkel is disappointed at the slow pace of the fight against corruption in Romania, one of the reasons invoked by the West in rejecting Romania and Bulgaria's accession to the Schengen area.
Ponta reassured Merkel Romania is now politically stable, alluding to last year political crisis which raised many eyebrows in Europe. "My main message to the German government is that Romania, after years of economic, social and political crisis, has regained stability and wants to become a strategic and trustworthy partner of Germany" he said.
He underlined the Romanian government is determined to strengthen the rule of law, the fight against corruption and to ensure an effective and transparent legislation, highlighting he "strongly believes in Romania's European course".
Ponta's visit to Berlin has been widely interpreted as a branch of olive reached out to one of the two politicians behind Romania's most severe political crisis in the post-communist period. Daimler's decision to expand its business in Romania has also been regarded as a token of trust German investors showed after last year's turbulences.