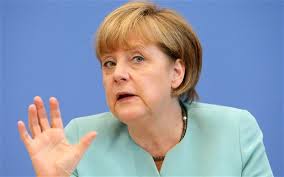 By Daniel Stroe – Bucharest
A spokesperson for German chancellor Angela Merkel denied the head of the government in Berlin is planning on visiting Romania this month before the second round of presidential elections on 16 November where Romanian PM Victor Ponta and German ethnic mayor Klaus Iohannis will face off.
The Romanian media speculated Merkel may come to Romania to publicly endorse Klaus Iohannis. The chancellor has no plans to visit Romania in November, Annekatrin Gebauer, a spokesperson for Angela Merkel, told Stiri de Cluj, a news website in the city of Cluj-Napoca.
Iohannis himself denied reports Angela Merkel would come to Romania to support him. "Surely, she will come when I am president of Romania and I will use all the relations that I have with politicians across the world to create a better, a more visible and positive profile for Romania. This is not the case over the electoral campaign and I have not insisted on that", the mayor of Sibiu said.
Merkel had already denied information she was preparing to visit Romania during the electoral campaign. While in Brussels late October, she was asked this question for the first time. "I am planning on going to Australia and New Zealand to attend the G20 summit during the first half of November. I am not aware of any private visit in November which is a very busy month for me", she said.
Speculation about Merkel's support for Iohannis arouse after Elmar Brok, a German Euro-lawmaker and head of the foreign affairs committee of the European Parliament, publicly endorsed ethnic peer Klaus Iohannis for the top job in Romania, drawing the ire of the social-democrat ruling party whose candidate, PM Victor Ponta, will square off with Iohannis in the second round of elections on 16 November.
Brok, a member of Merkel's CDU party, visited Sibiu late mid-October and went on stage with Iohannis, the mayor of the city, and showed support for the latter's candidacy. Brok likened Iohannis to Konrad Adenauer, the first post-war German chancellor who had previously been the mayor of Koln, and pointed out many in Brussels support Iohannis in his endeavor to become Romania's next president.
"I can tell you he enjoys an extraordinary large support within the European People's Party, within the group in the European Parliament and from all the representatives of the nations represented there. We appreciate his work and when he becomes president we will support him and will have a partnership in the great European people's family", Brok added.
Brok's open support for Iohannis drew the ire of the social-democrats who threw heavy words at the ethnic German mayor, with many going as far as saying Iohannis represents foreign interests and he will sell Transylvania to foreigners if he is elected President, resorting to cheap populism and nationalistic discourse to distract attention from other serious topics of debate.