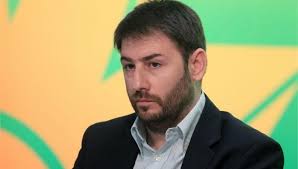 Athens, September 6, 2016/Independent Balkan News Agency
By Spiros Sideris
The efforts for the unity of the center-left, seem more like a game of personal dominance that undermines this effort, said PASOK MEP Nikos Androulakis.
The case for the unity of the center-left should proceed directly and there is need for a roadmap to clear up things and make the appropriate moves, Nikos Androulakis said, speaking to radio station "Praktoreio 104,9FM".
This issue must proceed. PASOK with The River and the Democratic Left, based on what they say in the House, agree on most things. That is the things that unite them are much more than the ones that separate them, Androulakis said.
Asked about who will lead this effort he replied: The stress of the personal role undermines many phases of the effort. This must be overcome. This matter cannot go on for much longer. Immediately there should be a road map, to clear up things and make the appropriate moves. And to clear up things, we have to leave personal strategies aside. They must understand that if this space unites, the political benefits for the country first of all, will be many more from what is the case today. What happens now? There is a SYRIZA with Independent Greeks in a government in which no one has a common ideological orientation. Essentially it is a power management agreement. We see how the economy goes. The economy goes from bad to worse and there is a New Democracy, which expresses a liberal way, forgetting that this way brought the global financial crisis and more problems in the country, and does not help set rules for the correct operation of the state and markets, it just leaves everything to function unchecked.
Asked if there is room for Giorgos Papandreou in this effort, he replied: If things were from below, as it should have been from the beginning, we would have avoided this situation, the discussions in closed offices – which create annoyance – as to who can participate, how will this happen, what will be the dates. Unfortunately, up bottom consultations have these problems. What you are asking me now, should have been decided by the people. The people are the ones who choose who will participate in this new endeavor. The people have the ability to select persons. Everyone should join the battle and let the people choose those who are better suited in this situation.