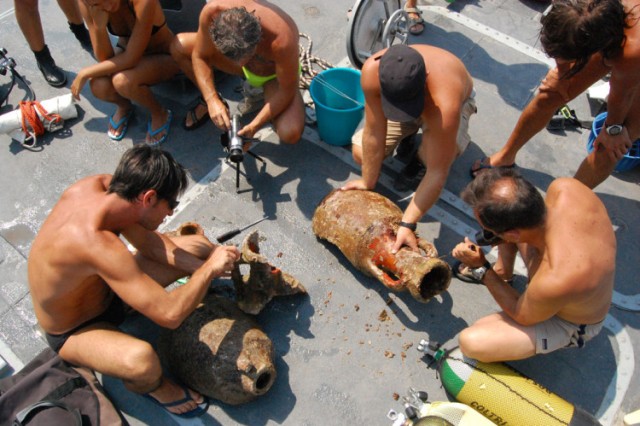 Tirana, 13 April 2016/Independent Balkan News Agency
100 years ago, Albania and Italy started their cooperation for archeological excavations. These excavations have unfolded ancient cities and Albanian landscapes which are visited by tourists from all over the world.
In the framework of the 100 anniversary of this cooperation, an exhibition opened in the premises of the National History Museum called "Ancient Cities and Albanian landscapes".
The exhibition has been dedicated to archeology in Albania and identifies the history of relations between Italian and Albanian archeology. This exhibition shows the main results of the cooperation between Italy and Albania in the domain of archeological excavations, with a century long history which includes archeologists from the University of Bologna, Chieti, Macerata, Foggia, Bari and Ferrara.
The exhibition includes excavations of the first archeological foot prints under the auspices of an Italian researcher around the end of the 19th century and the Second World War up to the latest excavations taken place in 2000.
Sources from the National History Museum say that the exhibition is comprised of exhibiting panels divided into sections. Some sections will exhibit objects found during archeological missions. Amidst unexposed materials there will also be sculptures from 1920s found in Phonike and Butrint and objects discovered in the recent years.
Albanian Minister of Culture, Mirela Kumbaro says that in the 100th anniversary of the joint archeological bridge "we have the obligation and honor to remember the figures and the acts that laid the foundations and also pledge that we will continue this work".
Albania and Italy have travelled together in a joint natural, urban and cultural space, Mrs. Kumbaro says, stressing that the vivid and immortal evidence comes, besides archeology, as the best radiography of our cohabitation.
"We and our neighbors across the sea speak the language of archeology! When two countries exchange people, experiences, suffering and love, but also dramas and joy, this doesn't happen in a day, but throughout centuries and throughout the centuries, Albania and Italy have travelled together in a joint natural, urban and cultural space", the minister says. /balkaneu.com/