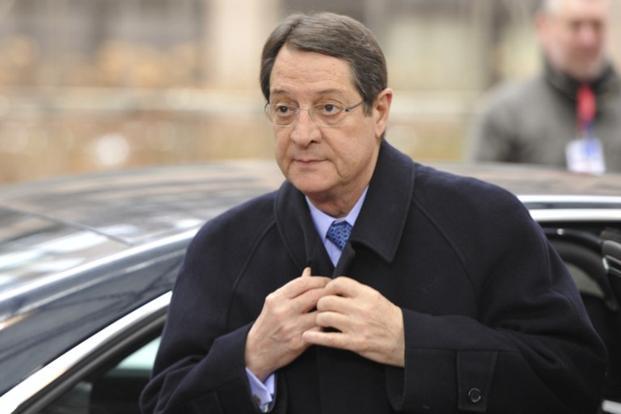 By Christos T. Panagopoulos
Relationship between Cyprus and Israel, attempts to further improve them, as well as new perspectives being produced in the area by the Understatement Memorandum for the trilateral energy cooperation among Nicosia, Athens and Tel Aviv were discussed during the meeting President Nicos Anastassiades had with members of the American-Jewish community in New York on Monday.
According to AMNA, during the meeting all recent developments in the Middle East were also discussed, as well as relationship between Israel and the E.U.
Anastassiades informed his interlocutors about the attempts already under way to restart negotiations about the Cypriot issue. Meeting was held on the fringes of the 68th Summit of the General Assembly of the United Nations.
From the part of the American-Jewish community President of the AIPAC Organization, Michael Kassen as well as the newly elected president, Bob Cohen and Director of International Affairs, Stephen Schneider joined the meeting.
President Anastassiades was accompanied by the Cypriot government's spokesman, Christos Stylianides, permanent representative of Cyprus in the U.N. Ambassador Nicos Aemiliou, Ambassador in Washington, Giorgos Siakallis and Director of the President's Diplomatic Bureau, Nicos Christodoulides.
Meeting with Congresswoman, Iliana Ross Letinen
Anastassiades had also a particular meeting with president of the Congress's Subcommittee for the Middle East and North Africa, Iliana Ross Letinen.
Letinen has already taken initiative along with congressmen Ted Deutch, Gus Bilirakis and John Sarbanis and on July 19th 2013 tabled jointly a resolution to the U.S. Senate, which calls for ending the division of Cyprus, stressing the importance of cooperation between the United States and Cyprus.
Finally, last night, the President of the Cypriot Republic had a working dinner with members of the Executive Board of the Cyprus Federation of America, which he informed for both the economic situation and the efforts being made for recovery, as well as for the efforts paid for the resumption of the intercommunal talks under the auspices of the United Nations.
Furthermore, they exchanged views on ways to strengthen cooperation between the Diaspora and the Government of Cyprus so as to better promote the cause of Cyprus in the United States.
Source: AMNA
You may also read:
Anastasiades reiterates the high stakes of the new Cyprus issue talks, Monday 23 September 2013