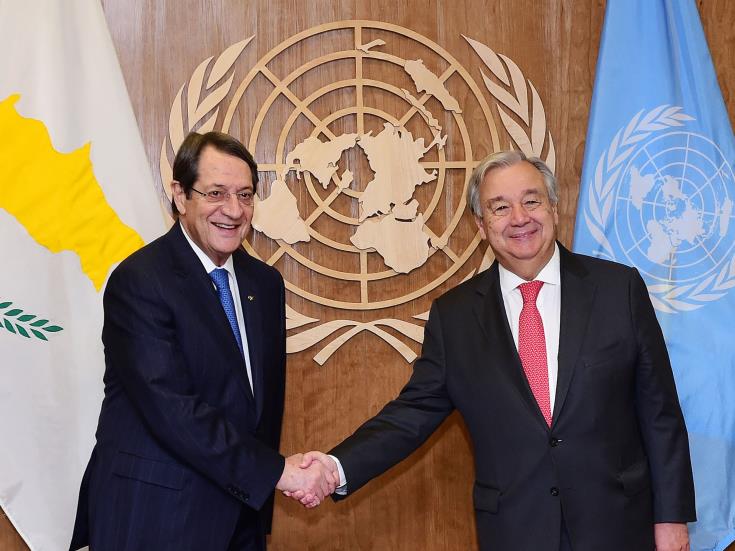 He is trying to maintain a climate of good and friendly relationship with Mustafa Akinji
By Michalis Michael
The terms of reference have already been agreed on August 9, said President of the Republic of Cyprus Nicos Anastasiades, saying he is trying to maintain a climate of good and friendly relationship with Mustafa Akinji and that he has conveyed his determination to the UN Secretary-General for a just and viable solution, without dependencies and guardians.
Coming out of the Presidential Palace after the Cabinet meeting, President Anastasiades was asked to comment on the statements of the Turkish leader and that he is "engaged in a game of accountability" and what can be expected from this. He replied that "to date, you might have observed that I have never been involved in a blame game against Mr Akinji for a series of setbacks, trying to maintain a climate of good and friendly relations".
What needs to clarify is one thing, he said, reminding that he once again made clear to the SG, "my intention, determination, political will to work as I worked up to Crans Montana, in order to find a solution to the Cyprus problem that is accepted by both communities, that is, above all, functional so as to be viable, by creating a state free from dependents or guardians".
Asked about what will happen with the terms of reference and when would Mrs Lute's arrival be expected, the President of the Republic said the terms had been agreed with the Turkish leader at their meeting on August 9. "They were confirmed on the first day of Mrs Lute's arrival, whom we had informed of the convergences we had achieved, and who prepared a brief statement at our request. Beyond that, if some people back down, if some people want to adopt predetermined positions, I'm very sorry but I can't keep up"./ibna