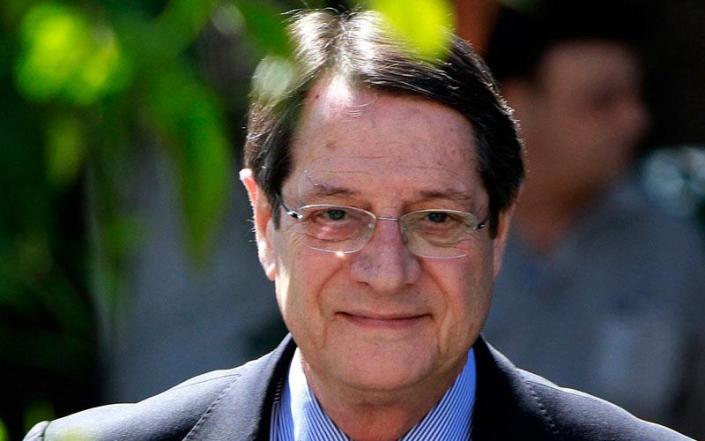 We are going to Geneva very well prepared and determined, the President of the Republic, Mr Nicos Anastasiades, said, today, in his remarks to reporters on his flight to Geneva.
Asked what he expects to result from the impending phase of the Cyprus problem in Switzerland, the President said that "we are going to Geneva well prepared and determined, always with the will and desire for a solution to the Cyprus problem as a given on the basis of principles and values that will allow us to build a modern European state, a state that will respect the concerns of the Greek Cypriots and the Turkish Cypriots, that will more generally respect its citizens. And such a state, of course, does not need either guarantors or troops to supposedly protect that which are commonly recognized or commonly accepted by all modern states, and we cannot continue to be the only case that needs third countries to guarantee it."
In response to another question, the President said that "what I want to hope, following so many decades of negotiations, is that what was missing in the past will perhaps prevail now: namely, good will on the part of the Turkish side; and it is the first time since the invasion and afterwards that the Republic of Cyprus will be conversing with Turkey, especially with regard to the important issues of security and troops."
Asked whether the Secretary General of the United Nations Organization responded to the letter that President Anastasiades sent to him, the President of the Republic said that "it is not necessary for anybody to respond. The Republic of Cyprus is a recognized state, member of the UN, a recognized state member of the EU; the trilateral alliances and cooperation, don't happen with the Greek community, but with the State; our participation in various international organizations does not occur in our capacity as a community but as a State. Consequently, we don't have to prove to anybody who we are."
In response to a question with regard to the agenda of his talks with Mr Akıncı, the President said that it will be finalized tonight during their meeting.
Asked to offer his assessment as to what it will mean for the Cyprus problem if the President of Turkey does not go to Geneva, President Anastasiades said that "the essential thing is to have will on the part of Turkey, and it can be expressed by anybody who wishes to do so."
Replying to another question, the President said that "the dialogue is Cypriot owned. The members of the Security Council will be in the area; the EU will be present; consultations will be taking place by various people, not in the form of arbitration, but so that they will be moving in the right direction."
Finally, when asked what will be the content of the telephone communication that he will have tonight with the UN Secretary General, the President said that the Secretary General has talked with all the principal parties of the current phase: with the Prime Minister of Greece, and the Turkish President, and the Ministers of Foreign Affairs; "and therefore I see that it is more for encouragement and for the determination that all parties must show."/IBNA