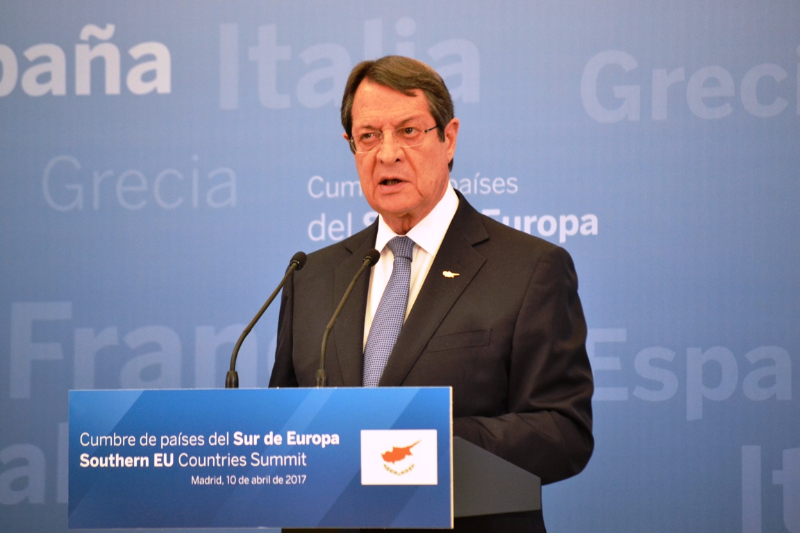 To the support provided by the EU to the efforts for a Cyprus solution referred today the President of the Republic of Cyprus, Nicos Anastasiades.
In his statements to the media during a joint press conference of the seven Heads of States or Governments of the southern countries of the EU – after the summit they attended in Madrid – President Anastasiades expressed his "heartfelt thanks to the friend Marianno for the excellent and outstanding in terms of organization third summit of the European states of the south".
Referring to the focus of the summit, the President spoke of the "common interest of all countries is the future of Europe. We want a strong and secure Europe, everyone will work in order to implement what is provided for in the Rome Declaration, while at the same time we will try in the best possible way to manage the British exit from the EU, a sad, but at the same time respectable result of a referendum".
Anastasiades  said that the leaders focused on "economic development, employment, investments, the interest Member States must show to the social and economic field in particular, taking mostly into account the problems of young people, particularly youth employment".
"I wish to condemn the terrorist attacks in Russia, in Stockholm, in Egypt. Through the spirit of solidarity we all work in order to tackle the phenomena of terrorism, which  are more and more carried within the EU", the President of Cyprus said.
Anastasiades also thanked his interlocutors "for the opportunity given to inform on the progress, problems and developments in the Cyprus problem and really thank the rest of my colleagues as well as the entire European Council for the support they provide in our efforts to achieve a solution to the Cyprus problem that will reunite our country on the basis of a bizonal bicommunal federation, which will relieve it from the occupying army, create conditions of respect to human rights and the European acquis, European principles and values, to create the conditions for peaceful coexistence of the people of Cyprus, the citizens, the people of Cyprus, whether Greek Cypriots or Turkish Cypriots".
"The support and particularly on issues very sensitive to European countries was important and I want once again to thank and reiterate my commitment that I will work so that through dialogue a peaceful, lasting, sustainable particular and entirely European solution to the Cyprus problem will be achieved", the President concluded.
As stated in the Joint Declaration of Madrid, the next summit of Heads of State or Government of the EU's southern member states will be held in Cyprus this fall./IBNA