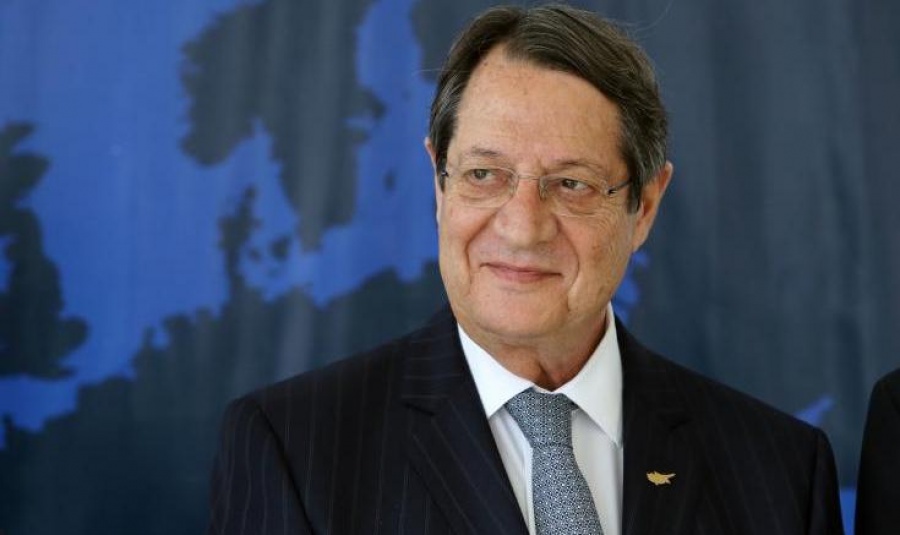 We will not going to bend under any threats, said President of the Republic of Cyprus, Nicos Anastasiades, this evening.
President Anastasiades spoke to reporters at his arrival at the Thessaloniki Concert Hall for the reception of his nomination as honorary professor at the Law School of the Aristotle University of Thessaloniki.
Responding to a question, he said "we are ready, as we have stated to the UN Secretary-General, demonstrating our determination and political will to engage in whatever dialogue the SG deems necessary in order to create the conditions so that there can be fertile ground for a creative dialogue, in order to find a viable and functional solution to the Cyprus problem".
Asked if there is European solidarity, the President said that "from what you yourselves report, for the first time the EU has decided targeted measures against Turkey for the illegal actions in the maritime area of ​​the Republic of Cyprus for depriving it or trying to deprive it from exercising its sovereign rights".
Called to comment if he is concerned about the attitude of the Turkish President, President Anastasiades said that "what shields us is international law. And the whole policy of the Republic of Cyprus to conclude or even strengthen and have excellent relations with the neighboring countries. The determination of the EEZ with Egypt, Israel and Lebanon on the basis of the 1982 International Convention on the Law of the Sea strengthens and guarantees the acquis of the Republic of Cyprus. As a result, any unlawful actions do not have any legal effect".
Finally, to the question how he feels when he hears the President of Turkey threatening to repeat Turkey's actions in 1974, the President of the Republic said he feels "it is far from any European authority a country that is a candidate for membership. Have you heard another European country threaten any third country? Have you heard of any other advanced country creating or boasting about human rights abuses or military actions? Therefore, I would not like to comment further, just say that the Cyprus case is a matter of international law, a matter of the EU, and therefore we will not bend under any threats. We will continue to fight"./ibna