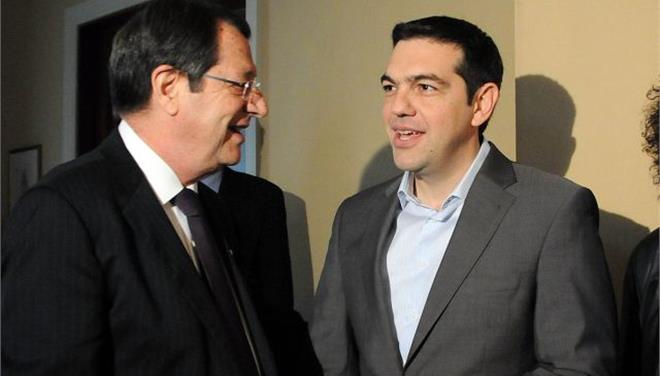 Nicosia, April 15, 2015/ Independent Balkan News Agency
Review Hari Stefanatos
The developments on the Cyprus issue, as well as economic and energy issues will be the focus of the talks between President of Cyprus Nicos Anastasiades and Greek Prime Minister Alexis Tsipras in Athens, on an official visit that will take place Friday.
According to Cypriot government spokesman Nicos Christodoulides, Anastasiades will inform Tsipras on developments in Cyprus matter and the imminent resumption of talks. Christodoulides said that the Greek Cypriot side is more than ready for the third phase of the negotiations, noting that the challenge now is for the Turkish side to have the political will to resolve the Cyprus problem.
Referring to the road map submitted by the Turkish Cypriot leader Dervis Eroglu, to the United Nations, Christodoulides noted that this is not something new, suggesting that the proposal has already been rejected by President Anastasiades, while it is excluded from the joint statement which is the basis for talks. He also said that Eroglou attempts to create impressions in view of elections in the occupied part.
Regarding the chance that Anastasiades will announce CBMs, Christodoulides said that there are ideas and thoughts, but there will be no announcements before the end of the election in the occupied on Sunday.
The Cypriot government Spokesperson added that talks will also revolve around economic issues, including the request by Nicosia of a waiver of the 26% tax, imposed by the Greek government on imports of goods and services, stating that according to present indications, Athens will respond positively.
Additionally, we will discuss energy issues and deciding on the next steps.
For his part, the Greek prime minister is expected to inform President Anastasiades on the progress of negotiations in Athens, with the EU institutions.
"Cyprus-Israel cooperation prospects are expanding"
Government spokesman Nicos Christodoulides said that the perspectives of the Cyprus-Israel cooperation in the energy sector broaden, after talks between President Anastasiades with the Israeli Foreign Minister Avigdor Lieberman. Christodoulides left open the possibility of expanding cooperation with other neighboring countries in the energy sector.
Energy issues were discussed at the meeting of Cypriot President with the Foreign Minister of Israel, who is on a private visit to Cyprus.
Government spokesman said there is strong political will on both sides to enhance cooperation in energy, economy, tourism and defence.