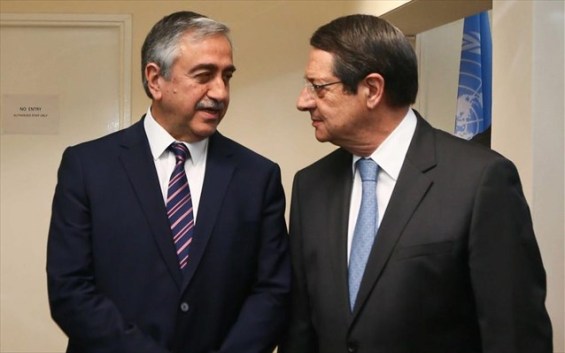 Fears which the Turkish Cypriots have been expressing in the past few days cannot be justified, even though the excuse to express such fears hailed from the Greek Cypriot community, Cyprus President Nicos Anastasiades has said, pointing out that no Greek Cypriot political party claims or maintains that the solution to the Cyprus problem is `enosis` union with Greece.
The President described as "wrong" in terms of timing and its objective a House decision to commemorate in schools the 1950 referendum in favour of union with Greece. The decision led the Turkish Cypriot leader to leave Thursday`s meeting with Anastasiades, in the context of the UN peace talks.
Anastasiades also pointed out that the House of Representatives is an independent legislative body of the Republic of Cyprus and does not take orders or recommendations from anybody.
Speaking about recent developments in the ongoing UN-led effort to find a negotiated settlement to reunite Cyprus, the President said "any fears among the Turkish Cypriots, even though the Greek Cypriot side has provided the pretext for such concerns, cannot be justified simply because there is an agreement between us that the solution we are seeking is a bizonal bicommunal federaion."
The agreement also stresses that secession or union are strictly prohibited, he explained, adding that this is one of the articles in the constitution which cannot be amended.
"Consequently, anybody who seeks to achieve the opposite of what has been agreed will be in conflict with the UN, which I am sure will approve our agreement," he said.
The President was commenting on the reaction by the leader of the Turkish Cypriot community to a House decision to commemorate in schools in a brief reference and a short reading the 1950 referendum in favour of union with Greece. Akinci demanded that the President takes steps to revoke the decision.
"Any excessive reactions to a simple reference, which I consider was wrong not only in terms of time but also in terms of its objectives, are not justified, in particular when one takes into account that the April 1st uprising against British colonial rule to achieve union with Greece is marked with great celebrations and yet nobody refers, during any such celebrations, to union with Greece," the President pointed out.
The President made it clear that he had no wish to create any further complications. "I simply wish to say that everybody must know what he is asking and what he is seeking. I have never raised any issue with Akinci, saying that he must impose himself on the illegal Turkish Cypriot administration, which takes decision which are contrary to the joint line or when it airs different views," he added.
"The country`s supreme interest, which relates to Greek Cypriots and Turkish Cypriots, must prevail," he said, recalling that significant progress has been made at the negotiating table so far and this must be exploited in the future in order to achieve, as soon as possible, convergences which will allow both communities to accept a proposed solution.
No party, even opponents of a bizonal bicommunal federation, suggests that enosis is what they are seeking, the President said, noting that "on the contrary, even those who disagree with a federal solution, say that the Republic of Cyprus must be safeguarded."
"Once again, I reiterate my call to leave aside any excuses and, with sincerity, declare whether we are ready at long last to negotiate in a serious manner to address the concerns of each side," he said.
Invited to comment on press reports quoting Akinci as saying that the President`s behaviour was not proper, Anastasiades said he did not want to reply to such reports.
"I respect Mr Akinci and I have proven that. I have this bad habit of smoking, I must admit," he said, and explained that he leaves the negotiating room any time he wants to smoke, knowing that Akinci has been advised by his doctors to avoid smoking areas because of ill health in the past.
"Anything else anybody says is gossip which is not fitting for political leaders," the President added.
On criticism from the main opposition party AKEL, Anastasiades said he appreciates party efforts to find a mutually acceptable solution but putting on an equal par the two leaders does not help, especially when one knows fully well that Turkey is trying to avoid outlining its positions on substantive issues such as security and guarantees, important aspects of the Cyprus problem.
Cyprus has been divided since 1974, when Turkey invaded and occupied its northern third. President Anastasiades and Akinci are engaged in UN-led talks with an aim to reunify the island under a federal roof.
Akinci walked out of a meeting on Thursday, in the framework of settlement talks, shortly after it began. It was announced that the two leaders had elaborated earlier on their positions as regards a decision taken by the Cypriot Parliament last week to commemorate in schools the 1950 referendum, favouring "enosis", union with Greece./IBNA