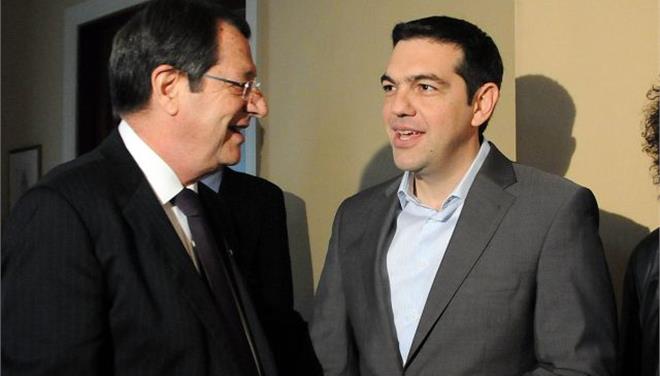 Nicosia, April 17, 2015/ Independent Balkan News Agency
By Kyriacos Kyriacou
President of the Republic Nicos Anastasiades departs for Athens on Friday morning for a working visit.
The President will hold meetings tomorrow with Prime Minister Alexis Tsipras and President of the Hellenic Republic Prokopis Pavlopoulos.
Greece and Cyprus are currently on a EU bailout program.
An official statement said that pn the agenda of talks will be economic developments, issues concerning the EU, the Cyprus problem and the anticipated resumption of the bicommunal talks, as well as regional developments.
Alexis Tsipras and Nicos Anastasiades met again February in Nicosia. It was Tsipras first official trip as the Greek Prime Minister. In that meeting the two men exchanged views on the Cyprus issue, economy and the EU's stance towards Russia/
Tsipras said during his visit that "it was not by chance" his first official visit as Prime Minister was to Cyprus, and spoke of the historic ties between the two countries.
During his visit in Athens, the Cypriot President will also attend a lunch hosted by the Greek President in the presence of the Prime Minister.
President Anastasiades will also hold meetings with New Democracy leader Antonis Samaras, leader of The River, General Secretary of the Greek Communist Party, Demetris Koutsoumba, leader of Independent Greeks party Panagiotis Kammenos and Panhellenic Socialist Movement (PASOK) leader Evangelos Venizelos.
The Cypriot president, who will be accompanied by Foreign Minister Ioannis Kasoulides and Government Spokesman Nikos Christodoulides, returns home on 19th April.